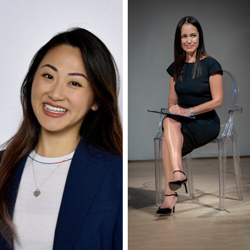 NEW YORK (PRWEB) April 02, 2021
As the pandemic continues to block basic access to eyecare for Americans in quarantine and poses new threats to vision health, two notable women are stepping up to the challenge and revolutionizing the way we discuss and value ocular health.
This month as we (virtually) gather to celebrate International Women's History Month at Mediaplanet, we wanted to take a moment to highlight two of the incredible women we partnered with on our Access to Vision & Speech Health campaign released on March 23, 2021, throughout USA Today and on http://www.futureofpersonalhealth.com. These two phenomenal women are changing the vision Industry with their trailblazing achievements and paving the way for future female leaders.
Both Allisa Song of Nanodropper, and Eyes Are The Story founder Amy Gallant Sullivan, use their platform in Mediaplanet's Access to Vision & Speech Health campaign to change the conversation surrounding eye health.
It was a pleasure to work with Allisa Song, founder and CEO of Nanodropper, Inc., and Amy Gallant Sullivan, founder and CEO of Eyes Are The Story and co-creator of The Tear Film & Ocular Surface Society (TFOS). Their unique contributions to our vision campaign reached millions and educated our readers on the premier innovations, initiatives, and products that promote eye care during the pandemic and beyond.
Song is a champion of the common good and an entrepreneurial problem solver. After graduating in 2015 from the University of Washington and working full-time in a research lab for three years, Song decided to switch paths and pursue her MD with the dream of becoming a physician and someday facilitating systemic healthcare reform. From both personal and clinical experiences, Song became motivated to help people overcome financial barriers to ocular health, and regain power over their healthcare.
In October 2017, Song began to work on a patient-centered solution to a global problem of eyedrop waste, as the traditional eyedrop bottles dispense about five times the liquid an eye can absorb. With the co-founding team of Mackenzie Andrews, Elias Baker, Allisa Song, and Jennifer Steger, PhD, Nanodropper was born!
Named after the company's flagship product, Nanodropper has developed a patient-centered adaptor for eyedrop bottles to reduce the volume of currently oversized eyedrops by more than 70 percent. After partnering with ophthalmologists and clinics, Nanodropper is already saving patients and clinics around the country thousands of dollars per year in medication waste!
Song, along with her co-founders, was named an honoree in The Forbes 30 Under 30 list in healthcare 2021, and continues to work toward closing the health equity gap while promoting patient education and advocacy.
A leader and disruptor in Optocosmetics, Amy Gallant Sullivan is an established pioneer in the eye health world with two decades of experience in the ocular surface industry. Throughout her incredible career, Sullivan has illuminated global audiences on an array of eye-wellness topics and is now focusing on creating solutions for a new generation of wellness seekers with her bio beauty brand Èyes Are The Story.
Drawing from both her leadership role at TFOS, a global initiative dedicated to the cross-pollination of biotech, life sciences and technology, as well as her background in international business and branding, Eyes Are The Story represents the culmination of Sullivan's expertise and imagination. With its latest announcement launching an expansion to Canada, Eyes Are The Story is one step closer to being available globally, so that everyone who suffers from dry and tired eyes and eye-to-face sensitivity has access to products that perform safely and boldly on the vanity-inspired wellness continuum.
It was a privilege to be able to work with both Allisa Song and Amy Gallant Sullivan on this important campaign and we are excited to see the ways they continue to make history in 2021!
Nanodropper, Inc.
Nanodropper offers value-based solutions to close health equity gaps while promoting patient education and advocacy. Named after the company's flagship product, Nanodropper has developed a patient-centered adaptor for eyedrop bottles to reduce the volume of currently oversized eyedrops by more than 60 percent. This will help reduce cost, decrease waste, and minimize potential side effects of vision-saving treatments. Nanodropper's products and educational content will help patients navigate issues like vision insurance, eye doctor appointments, and deploying their resources in an efficient way. These initiatives align with Nanodropper's mission of helping patients take back control of their eye health. Visit http://www.nanodropper.com to learn more.
Press Contact
Robbie Spencer
rspencer@nanodropper.com
EYES ARE THE STORY
Eyes Are The Story is a digitally native biobeauty brand uniquely formulated for sensitive eyes, contact lens wearers, and sufferers of dry eye and digital eye strain. Eyes Are The Story products deliver high-performance and safe beauty backed by eye science. Boston-bred, women-led, Eyes Are The Story is committed to building awareness for next-generation eye wellness.
Press Contacts:
Diane Mantouvalos
press@eyesarethestory.com