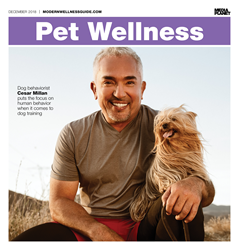 "Most people want to train the dog, but they don't have the knowledge .... The student is only as good as the teacher,"
NEW YORK (PRWEB) January 02, 2019
Mediaplanet announces the launch of this December's edition of "Pet Wellness." This campaign will serve as a 360 guide for pet owners on pet wellness while also advocating for the adoption of shelter animals.
The print component of "Pet Wellness" was distributed within LA Times in Los Angeles with a circulation of approximately 261,000 copies and an estimated readership of 783,000. The digital component is distributed nationally, through a vast social media strategy, and across a network of top news sites and partner outlets. To explore the digital version of the campaign, visit: http://www.modernwellnessguide.com/topic/pet-wellness
Dog Behavior expert Cesar Milan graces the cover of the print publication. Through an exclusive interview on the interior, Cesar reveals how humans must first train themselves before training their dogs. "Most people want to train the dog, but they don't have the knowledge .... The student is only as good as the teacher," said Millan. "My clients love their dogs, but their dogs don't respect my clients," Millan said. "Trust and respect is an activity you do separate from love, and eventually they merge."
Emma Kenney, star of Showtime's Shameless and ABC's The Conners is also featured in the publication. In the exclusive interview Emma shares the importance of adopting pets from Shelters and how she uses her social media platforms to help shelter pets find forever homes.
This campaign was made possible with the support of the ASPCA, American Kennel Club, Cesar Millan, Emma Kenney, Zoetis, Embark Vet, Canine Companions for Independence, Spectrum Pet Brands, Pet King Brands, Ace Hotels, Halo Pets, Whitebridge Pet Brands, CBD Dog Health, Michaelson Found Animal Foundation, American Humane, LilBub, Hamlett the Piggy, Manny the Frenchie, and Lilly the Morkie.
About Mediaplanet
Mediaplanet specializes in the creation of content marketing campaigns covering a variety of industries. We tell meaningful stories that educate our audience and position our clients as solution providers. Our unique ability to pair the right leaders with the right readers, through the right platforms, has made Mediaplanet a global content marketing powerhouse. Our award-winning stories have won the hearts of countless readers while serving as a valuable platform for brands and their missions. Just call us storytellers with a purpose. Please visit http://www.mediaplanet.com for more on who we are and what we do.
Press Contact:
Amanda Deutch
amanda.deutch(at)mediaplanet.com
(646) 755-7964