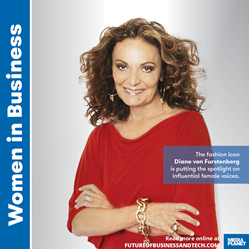 "When you get any success, it is important to use your voice, your knowledge, your experiences and connection to help others."
NEW YORK (PRWEB) March 28, 2019
In the final days of Women's History Month and coming off of the excitement of International Women's Day 2019, Mediaplanet continues the conversation of gender parity by announcing today the launch of the March edition of the "Women in Business" campaign, published within USA TODAY in select markets and featured online. Reaching a community of leaders including female entrepreneurs, female business owners, female executives, HR professionals, ERG leaders and corporate leadership, this campaign will impart critical knowledge and seek to inspire, celebrate and empower women at every corporate level to advocate for balance in the workplace.
Now in its sixth consecutive year, the need for a nationwide campaign on the topic of women empowerment in the workplace and gender equality in business is apparent more than ever. Even though, women make up almost half of the workforce today, according to the World Economic Forum's Global Gender Gap Report, at the current U.S. statistical rates, it might be more than 217 years before women actually achieve gender parity at work. Women receive more college and graduate degrees than men. Yet, on average, women continue to earn considerably less than men and despite the growing #MeToo movement and increased attention on the equal pay disparity, research shows little progression on closing the gender wage gap and equal distribution of executive roles.
World-renowned fashion designer and women's rights advocate, Diane Von Furstenberg graces the cover of the print publication. In an exclusive interview, Von Furstenberg highlights her dedication to spotlighting women making a difference in the world through her Annual DVF Awards, a part of the Women in the World Summit, which is a groundbreaking annual event featuring major celebrities, activists and influencers moving the global women's movement forward and will be one of the exclusive events The 'Women in Business' print campaign will be featured in and distributed to guests and speakers, including keynote speaker Oprah, Vogue EIC Anna Wintour, Actress Brie Larson and many more.
When asked why she got involved, Von Furstenberg says in the interview, "When you get any success, it is important to use your voice, your knowledge, your experiences and connection to help others." Staying true to your values is the main advice Furstenberg would give aspiring businesswomen. "Believe in yourself and trust your instincts," she says, "because the relationship you keep with yourself is the most important."
The campaign also spotlights additional prominent influencers and female businesswomen like recording artist Madison Beer, Chief Brand Officer of WW Gail Tifford, FRESHPAPER's Kavita Shukla, public speaker and founder of the Women Empower Expo Alexa Carlin, National Association of Female Executive President Betty Spence, and more!
The print component of the "Women in Business" campaign is distributed within today's edition of USA TODAY in the New York, Los Angeles, San Francisco, Chicago, Washington D.C./Baltimore, Dallas, Houston, Atlanta, and Minneapolis markets, with a circulation of approximately 250,000 copies and an estimated readership of 750,000. The digital component is distributed nationally, through a vast social media strategy and across a network of top news sites and content partner outlets. To explore the digital version of the campaign, visit Mediaplanet's content hub, futureofbusinessandtech.com.
This campaign was made possible with the support of Toyota, Procter & Gamble, Seneca Women, Catalyst, National Association for Female Executives (NAFE), National Association of Women Business Owners (NAWBO), U.S. Chamber of Commerce Foundation, Diversity Best Practices, Women in the World Summit & Tina Brown Media, Forte Foundation, Women Empower Expo, Olin Business School at Washington University, University of Rochester's Simon Business School, Kellogg School of Management at Northwestern University, Fairygodboss, Working Mother Media, National Association of Sales Professionals.
About Mediaplanet
Mediaplanet specializes in the creation of content marketing campaigns covering a variety of industries. We tell meaningful stories that educate our audience and position our clients as solution providers. Our unique ability to pair the right leaders with the right readers, through the right platforms, has made Mediaplanet a global content marketing powerhouse. Our award-winning stories have won the hearts of countless readers while serving as a valuable platform for brands and their missions. Just call us storytellers with a purpose. Please visit http://www.mediaplanet.com for more on who we are and what we do.
Press Contact:
Victoria Borkowski
Phone Number: (646) 755-7949
Email: victoria.borkowski@mediaplanet.com