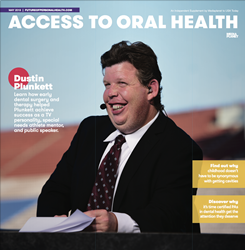 These offerings are especially important for the nearly 58 million people in the United States who live in areas where it is difficult to access care.
NEW YORK (PRWEB) May 08, 2019
Mediaplanet is proud to partner with the nccPA Health Foundation on this year's "Access to Oral Health" campaign. This partnership highlights the importance of certified physician assistants (PAs) in bridging gaps to provide oral health access and care.
Certified PAs expand access to quality dental and preventative oral health care by providing frontline screening, risk assessment, counseling services, and referrals. These offerings are especially important for the nearly 58 million people in the United States who live in areas where it is difficult to access care. The 131,000 certified PAs are equipped to address how oral disease can affect chronic conditions, like diabetes and cardiovascular disease and educate patients about the importance of self-care.
Certified PAs practice in all settings and specialties. By educating about the links between oral health and overall health, certified PAs can help ensure both for patients.
To read the complete editorial piece, authored by Dawn Morton-Rias, Ed. D., PA-C, click here.
The print component of "Access to Oral Health" is distributed within the May 3rd regional circulation of USA Today, with a circulation of approximately 250,000 copies and an estimated readership of 750,000. The digital component is distributed nationally, through a vast social media strategy, and across a network of top new sites and partner outlets. To explore the digital version of the campaign, please click here.
This edition of "Oral Health" was made possible with the support of the nccPA Health Foundation, the American Dental Association (ADA), American Association of Oral and Maxillofacial Surgeons (AAOMS), American Academy of Pediatric Dentistry (AAPD), Oral Health America (OHA), American Academy of Periodontology (AAP), Dental Lifeline Network (DLN).
About the nccPA Health Foundation
The nccPA Health Foundation is a 501(c)3 charitable nonprofit and a supporting organization to the National Commission on Certification of Physician Assistants (NCCPA), the only national certifying body for more than 131,000 PAs in the United States. Certified PAs provide care and education in more than 473 million patient visits annually, and the Health Foundation believes in the role of certified PAs to improve health. This belief grounds its work to design scalable initiatives that advance the quality and accessibility of healthcare.
About Mediaplanet
Mediaplanet specializes in the creation of content marketing campaigns covering a variety of industries. We tell meaningful stories that educate our audience and position our clients as solution providers. Our unique ability to pair the right leaders with the right readers, through the right platforms, has made Mediaplanet a global content marketing powerhouse. Our award-winning stories have won the hearts of countless readers while serving as a valuable platform for brands and their missions. Just call us storytellers with a purpose. Please visit http://www.mediaplanet.com for more on who we are and what we do.
Press Contact:
Tiffany Flick, Managing Director
tiffanyf@nccpa.net
678.417.8115