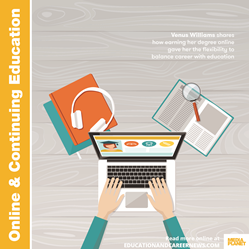 According to the federal government, more than 6.3 million students in the U.S. enrolled in an online course in fall 2016
NEW YORK (PRWEB) March 29, 2019
Mediaplanet today announces the launch of this March's edition of "Online and Continuing Education." This campaign highlights how online colleges provide a high-quality education with flexible cost, scheduling and degree options that can be beneficial for prospective college students who may not have the ability to attend an on-campus program.
According to the federal government, more than 6.3 million students in the U.S. enrolled in an online course in fall 2016. As the interest in online degree options has continued to grow over the last few years, more and more colleges and universities are expanding their online offerings.
The print component of "Online & Continuing Education" is distributed within today's edition of USA Today in New York, Los Angeles, Boston, Denver, Dallas, D.C./Baltimore and Chicago Markets, with a circulation of approximately 250,000 copies and an estimated readership of 750,000. The digital component is distributed nationally, through a vast social media strategy, and across a network of top news sites and partner outlets. To explore the digital version of the campaign, click here.
This campaign was made possible with the support of the U.S. News & World Report, National Association of Music Education, Association for Nontraditional Students in Higher Education, National Parent Teacher Association, University of Idaho, Wayne State College, New England College of Business, Tulane University, Berklee College of Music Online, Texas Tech University, Lee University, Sweetwater Sounds and many more.
About Mediaplanet
Mediaplanet specializes in the creation of content marketing campaigns covering a variety of industries. We tell meaningful stories that educate our audience and position our clients as solution providers. Our unique ability to pair the right leaders with the right readers, through the right platforms, has made Mediaplanet a global content marketing powerhouse. Our award-winning stories have won the hearts of countless readers while serving as a valuable platform for brands and their missions. Just call us storytellers with a purpose. Please visit http://www.mediaplanet.com for more on who we are and what we do.
Press Contact:
Amanda Deutch
amanda.deutch@mediaplanet.com
(646) 755-7964