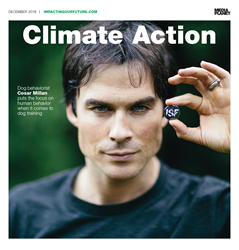 "I want to raise my children, simply be happy and be a really, really positive beacon of not just light, but of real quantifiable change."
NEW YORK (PRWEB) January 04, 2019
The "Climate Action" launched on December 27, 2018 and is continuing through 2019 as a global conversation on the critical environmental issues we are facing. The campaign serves as a bridge to between business, individual consumers, and advocates alike, with the aim to provide critical education on today's sustainability initiatives and the change-makers fighting for our future.
The print component of "Climate Action" was distributed within the December 27th circulation of the LA Times, with a circulation of approximately 260,000 copies and an estimated readership of 780,000. The digital component is distributed nationally, through a vast social media strategy, and across a network of top new sites and partner outlets. To explore the digital version of the campaign, visit: http://www.impactingourfuture.com/topic/climate-action
Amongst the many inspiring conversations in the campaign, our Cover Story, Ian Somerhalder shares powerful sentiments about our youth and the role they will have in preserving our Earth. He quotes his friend and mentor Deepak Chopra, to describe that "we are not separate from the environment, we are literally the environment."
He goes on to compares trees to human lungs and water systems to our cardiovascular system. "I want to raise my children, simply be happy and be a really, really positive beacon of not just light, but of real quantifiable change." He speaks of our trees and "if [we] cut and burn all of the trees, you're taking away the world's lungs; and if you dam, pollute and destroy the river systems and water systems, you are preventing the organism from using those systems to push around all the vital nutrients the organism needs to live. What's going to happen? The organism starts to die." Somerhalder calls on millennials and Gen Z to demand environmental responsibility and live mindful, green lives.
This campaign is a snapshot of the global efforts happening and makes demands of readers to be advocates for change. The "Climate Action" was made possible with the support of UN Environment, The Recycling Partnership, WildAid, SoCalGas, 3M, General Mills, Energy Upgrade California, American Forests, NSF International, Environmental Media Association, Center for Biological Diversity, Ian Somerhalder, Phillipe and Ashlan Gorse Cousteau, EarthEcho, Jackie Nunez, Plastic Pollution Coalition, World Animal Protection, Elephant Action League, International Fund for Animal Welfare, Kate Williams, 1% for the Planet, Million Waves Project, and Consumer Goods Forum.
About Mediaplanet
Mediaplanet is the leading independent publisher of content-marketing campaigns covering a variety of topics and industries. We turn consumer interest into action by providing readers with motivational editorial, pairing it with relevant advertisers and distributing it within top newspapers and online platforms around the world.
Press Contact:
Alexandra Flecha-Hirsch
alex.flechahirsch@mediaplanet.com
646.979.2835