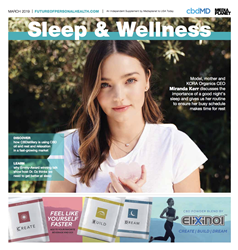 This campaign will educate an audience of young adults, parents and industry executives on the need to prioritize sleep, no matter the age or stage of life, along with the easy changes that make sleep and wellness."
NEW YORK (PRWEB) March 15, 2019
Helping to conclude Sleep Awareness Week and kicking off World Sleep Day on March 15, 2019 Mediaplanet today launches the first edition of "Sleep and Wellness." This campaign advocates for the increased awareness of health issues resulting from poor sleep and the healthy habits that can increase sleep quality and well-being. This campaign will educate an audience of young adults, parents and industry executives on the need to prioritize sleep, no matter the age or stage of life, along with the easy changes that make sleep and wellness.
Insufficient sleep is a problem that plagues more than a third of adults. In the campaign, Dr. Mehmet Oz shares that lack of sleep is "the single most underappreciated problem we have in America." This campaign explores different ways to encourage sleep: from understanding Ayurveda, perfecting the sleep environment, finding tools such as meditation to ease stress and using supplements for holistic health.
Miranda Kerr lends her voice to this campaign through an exclusive interview. The CEO, supermodel and mother explains how she uses yoga and meditation to keep her balanced during her busy daily routine. "We are all faced with different challenges in our day-to-day lives, but it's how we deal with them and how we approach the situation that makes the difference," she shares. "It's not something that comes easy all the time, but I do make a conscious effort to try to focus on the positives and use challenges as a way of growing and learning."
CBDistillery teams up with mixed martial artist champion and busy mom Michelle Waterson to discuss how she finds balance, recovery and relaxation with the use of hemp-derived CBD. "Taken in the evenings, CBD, especially the nighttime CBD gummies, allows me to rebalance my body after a long day of training so I can enhance my recovery," she says. The digital version of the campaign is live and can be read at futureofpersonalhealth.com.
The print component of "Sleep and Wellness" is distributed in today's edition of USA Today in New York, Los Angeles, Houston, Chicago, DC/Baltimore, Philadelphia and Atlanta markets, with a circulation of approximately 250,000 copies and an estimated readership of 750,000. The digital component is distributed nationally through a vast social media strategy and across a network of top news sites and partner outlets. To explore the digital version of the campaign,
This campaign was made possible with the support of CBDistillery, cbdMD, Miranda Kerr, FOREO, Sahara Rose, Elixinol, the World Sleep Society, Ananda Hemp, Charlotte's Web, Jhené Aiko, Montel Williams, IOPI Medical, Layla Sleep, Mima Kids USA, Aethics, Deepak Chopra, Dr. Mehmet Oz, Sweats and the City, Morgan Tyler, Anxiety and Depression Association of America, Cleveland Clinic, The Sleep Doctor, The Stress Detective, American Academy of Sleep Medicine, the Better Sleep Council, the American Heart Association, Mattress Advisor, Keith Cushner, Morgan Tyler and Ritual and Routine.
About Mediaplanet
Mediaplanet specializes in the creation of content marketing campaigns covering a variety of industries. We tell meaningful stories that educate our audience and position our clients as solution providers. Our unique ability to pair the right leaders with the right readers, through the right platforms, has made Mediaplanet a global content marketing powerhouse. Our award-winning stories have won the hearts of countless readers while serving as a valuable platform for brands and their missions. Just call us storytellers with a purpose. Please visit http://www.mediaplanet.com for more on who we are and what we do.
Press Contact:
Sara DeFelice
sara.defelice@mediaplanet.com
(646) 619-0188