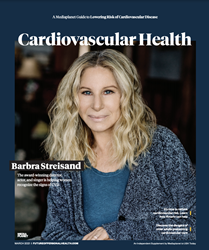 "Ten years ago, 1 in 3 women were dying of heart disease. Now that number is 1 in 4. Women are finally being valued more." - Barbara Streisand
NEW YORK (PRWEB) March 25, 2021
Mediaplanet today announces the launch of its cross-platform campaign "Cardiovascular Health." This campaign takes an in-depth look at cardiovascular health in order to educate patients, care givers, healthcare professionals, and the general public about cardiovascular disease and how to reduce risk. "Cardiovascular Health" spotlights the industry leaders, educational resources, and tools, therapies, and technology helping to prioritize and advance cardiovascular health to people of all backgrounds.
Despite major medical advancements, complications from cardiovascular disease remains the leading killer of Americans. In fact, every 36 seconds, a person dies from cardiovascular disease, accounting for about 25 percent of all deaths. Additionally, about half of all Americans (47%) have at least one of the three key risk factors for heart disease: high blood pressure, high cholesterol, and smoking.
The print component of "Cardiovascular Health" is distributed within today's edition of USA Today in the Chicago, Atlanta, Philadelphia, Baltimore, Houston, Detroit, Los Angeles, New York, Washington DC, Cincinnati, New Orleans, Dallas, Pittsburgh, Carolinas, Boston, South Florida, Denver, and Seattle markets, with a circulation of approximately 200,000 copies and an estimated readership of 600,000. The digital component is distributed nationally through a vast social media strategy, and across a network of top news sites and partner outlets. To explore the digital version of the campaign, visit futureofpersonalhealth.com/campaign/cardiovascular-health.
Featured on the cover of the print campaign is Barbra Streisand, the multi-talented, award-winning director, actor, and singer. Streisand is a true citizen artist, with deep commitments to equality, justice, civil rights, civil liberties, and equal opportunities. Philanthropy has always been a major part of her life — she's the co-founder of the Women's Heart Alliance, which is dedicated to increasing public awareness of and resources dedicated to women's heart health. "Ten years ago, 1 in 3 women were dying of heart disease," Streisand says in an exclusive interview for the campaign. "Now that number is 1 in 4. Women are finally being valued more." Streisand's support, advocacy and generous philanthropic commitments have also resulted in the creation of the Barbra Streisand Women's Heart Center at Cedars-Sinai.
This campaign was made possible with the support of Amarin Pharma, Omron Healthcare, Save A Child's Heart, American Heart Association, American Society For Preventative Cardiology, American College of Cardiology, Atrial Fibrillation Association, Academy of Nutrition and Dietetics, Adult Congenital Heart Association, Gerontological Advanced Practice Nurses Association, National Center for Chronic Disease Prevention and Health Promotion-Division of Heart Disease and Stroke Prevention, and the Women's Heart Alliance.
About Mediaplanet
Mediaplanet specializes in the creation of content marketing campaigns covering a variety of industries. We tell meaningful stories that educate our audience and position our clients as solution providers. Our unique ability to pair the right leaders with the right readers, through the right platforms, has made Mediaplanet a global content marketing powerhouse. Our award-winning stories have won the hearts of countless readers while serving as a valuable platform for brands and their missions. Just call us storytellers with a purpose. Please visit http://www.mediaplanet.com for more on who we are and what we do.
Press Contact:
Chloe Addleson
chloe.addleson@mediaplanet.com
561-235-1227