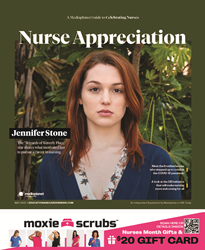 Admittedly, the past year has been full of unexpected experiences. In nursing school, you learn a certain set of skills, and then you really learn everything once you start your first job. Add the pandemic to it and that's something no nurse, regardless of experience, could prepare for."
NEW YORK (PRWEB) May 12, 2021
To help celebrate the Year of the Nurse and National Nurses Week, Mediaplanet today announces the launch of its cross-platform campaign "Nurse Appreciation." This campaign will take an in-depth look at the field of nursing in order to educate current and aspiring nurses, while also taking a look back at 2020, highlighting all that these healthcare heroes did and continue to do for us on the front lines of this pandemic. This campaign also aims to inspire the next generation of nursing students and professionals by showcasing notable academic institutions and leaders making this powerful and rewarding career accessible to students of all backgrounds.
Rightfully so, 2020 was declared "The Year of the Nurse," as the entire world looked to those in this profession to guide us through the COVID-19 pandemic. Millions of nurses stood by their oath to serve patients and stepped up as leaders in healthcare facilities. However, as we continue to face this global health crisis, the nurse shortage across the country Is becoming a dire situation. In fact, according to the American Nurses Association, there will be more available jobs for RNs to fill through 2022 than any other profession in the United States.
The print component of "Nurse Appreciation" is distributed within today's edition of USA TODAY in the Boston, Los Angeles, Chicago, Dallas, DC/Baltimore, San Francisco, Atlanta, Seattle, Denver, Philadelphia, and the Carolinas markets, with a circulation of approximately 150,000 copies and an estimated readership of 450,000. The digital component is distributed nationally through a vast social media strategy, and across a network of top news sites and partner outlets. To explore the digital version of the campaign, visit educationandcareernews.com/campaign/nurse-appreciation.
Featured on the cover of the print campaign is Jennifer Stone, a multi-talented actress who starred as Harper Finkle in Disney Channel's "Wizards of Waverly Place" before pursuing a career as an ER nurse. However, just because she decided to earn her nursing degree, the curtain didn't come down on her acting career. Now she is stepping up to shine a light on this rewarding career, while also sharing her personal journey. "Admittedly, the past year has been full of unexpected experiences," Stone says in an exclusive interview. "In nursing school, you learn a certain set of skills, and then you really learn everything once you start your first job. Add the pandemic to it and that's something no nurse, regardless of experience, could prepare for."
This campaign was made possible with the support of Academy of Medical-Surgical Nurses, American Association of Critical-Care Nurses, American Academy of Ambulatory Care Nursing, American Association for Men in Nursing, American Nephrology Nursing Association, Gerontological Advanced Practice Nurses Association, National League for Nursing, University of Kentucky, Ohio State University, University of Tennessee, Frontier Nursing University, Florida Southern University, Seattle University, Moxie Apparel & Scrubs, and Stryker.
About Mediaplanet
Mediaplanet specializes in the creation of content marketing campaigns covering a variety of industries. We tell meaningful stories that educate our audience and position our clients as solution providers. Our unique ability to pair the right leaders with the right readers, through the right platforms, has made Mediaplanet a global content marketing powerhouse. Our award-winning stories have won the hearts of countless readers while serving as a valuable platform for brands and their missions. Just call us storytellers with a purpose. Please visit http://www.mediaplanet.com for more on who we are and what we do.
Press Contact:
Chloe Addleson
chloe.addleson@mediaplanet.com
561-235-1227