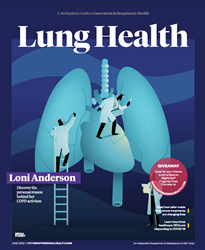 "As COVID-19 continues to impact millions of patients, and chronic lung disease is a leading cause of death in the U.S. and globally, lung health has never been more important"
NEW YORK (PRWEB) June 26, 2020
Mediaplanet is proud to announce the launch of this June's Lung Health campaign. The campaign brings together patients, healthcare providers, advocates, and scientists to spread awareness of chronic lung disease as well as recent innovations in diagnostics, prevention, and treatment for these devastating respiratory conditions. The campaign also takes a dive into COVID-19 and how some companies have responded to the pandemic.
One leading company is ResMed, a top-five global producer of hospital-to-home ventilators and top-two producer of bilevel positive airway pressure devices and masks. ResMed has shifted its manufacturing resources to triple production of these devices and help deliver life-saving therapy to patients in need around the world during the COVID-19 crisis. Meanwhile, the company worked quickly to offer digital health tools to clinicians, like cloud-connected remote monitoring for ventilator patients, enabling better care in a socially distanced world.
"As COVID-19 continues to impact millions of patients, and chronic lung disease is a leading cause of death in the U.S. and globally, lung health has never been more important," said Carlos M. Nunez, M.D., ResMed chief medical officer. "As a global leader in respiratory medicine focused on keeping people out of the hospital, we're pleased to partner with Mediaplanet to raise awareness of the importance of lung health and recognize the healthcare workers who do so much to help patients continue breathing every day."
ResMed pioneers innovative treatments and solutions that keep people out of the hospital, empowering them to live healthier and higher-quality lives. The company's digital health technologies and cloud-connected medical devices transform care for people with sleep apnea, COPD, and other chronic respiratory diseases.
The print component of Lung Health is distributed within today's edition of USA Today in LA, Boston, New York, Chicago, Houston, Seattle, Las Vegas, D.C Baltimore, and Pittsburgh/Cleveland markets. The digital component is distributed nationally, through a vast social media strategy, and across a network of top news sites and partner outlets. To explore the digital version of the campaign, visit: https://www.futureofpersonalhealth.com/campaign/lung-health/
The campaign was made possible with the support of ResMed, as well as the American Lung Association, National Heart, Lung, and Blood Institute, Masimo, Blueprint Medicines, Nonin Medical, and the National Environmental Education Foundation.
About Mediaplanet
Mediaplanet specializes in the creation of content marketing campaigns covering a variety of industries. We tell meaningful stories that educate our audience and position our clients as solution providers. Our unique ability to pair the right leaders with the right readers, through the right platforms, has made Mediaplanet a global content marketing powerhouse. Our award-winning stories have won the hearts of countless readers while serving as a valuable platform for brands and their missions. Just call us storytellers with a purpose. Please visit http://www.mediaplanet.com for more on who we are and what we do.
Press Contact:
Nellie Dubin
Nellie.dubin@mediaplanet.com