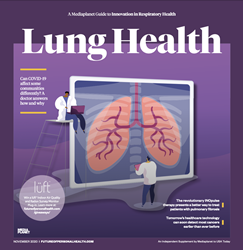 Through lüft™, SunRADON is helping a wide variety of customers, whether at home, school, the office or a healthcare facility, to accurately monitor indoor air quality on a long-term basis.
NEW YORK (PRWEB) November 30, 2020
Mediaplanet is proud to announce the launch of this November's Lung Health campaign. The campaign brings together patients, healthcare providers, advocates to spread awareness of chronic lung disease as well as recent innovation in prevention, diagnostics, and treatment for these devastating respiratory conditions. The campaign also takes a dive into importance of lung cancer prevention, and how some companies are dedicated to helping prevent lung cancer.
One leading company is SunRADON, a top provider of professional Radon Detection and Indoor Air Quality (IAQ) monitors. The company has recently launched lüft™, the world's first smart, plug-in Indoor Air Quality and Radon Monitor. This is a welcome innovation in the fight against radon-induced lung cancer.
lüft™ was created to provide consumers an effective and easy method to track Indoor Air Quality, including detection of Radon, a feature often lacking in today's IAQ monitors yet crucial in protecting lung health. "Radon is the #1 cause of lung cancer among non-smokers, and responsible for more deaths every year than all other home related deaths combined. Yet long term radon measurements are not included in standard IAQ monitors! It's because radon detection requires specialized know-how and technology, which SunRADON has mastered for 30+ years while serving professional radon inspectors and mitigators worldwide," explains SunRADON CEO Dr. Kai Wundke.
Through lüft™, SunRADON is helping a wide variety of customers, whether at home, school, the office or a healthcare facility, to accurately monitor indoor air quality on a long-term basis. lüft™ not only monitors radon levels but also dangerous chemicals such as formaldehyde, carbon dioxide equivalent, temperature, pressure, and humidity. lüft™ is unique in that it packs state-of-the-art radon detection into an IoT-enabled plug-in device. It also allows users to share data with their indoor air quality professionals to provide expert services should need arise.
"lüft™ is not just another IAQ monitor, but an integrated, smart IAQ system with the benefit of also detecting radon, the most dangerous Indoor Air Quality problem of them all," adds Dr. Wundke. The lüft™ monitor is available for purchase on sunradon.com or amazon.com.
The print component of Lung Health is distributed within the November edition of USA TODAY in LA, Boston, New York, Chicago, Houston, Seattle, Las Vegas, D.C Baltimore, and Pittsburgh/Cleveland markets. The digital component is distributed nationally, through a vast social media strategy, and across a network of top news sites and partner outlets. To explore the digital version of the campaign, visit: https://www.futureofpersonalhealth.com/campaign/lung-health/
The campaign was made possible with the support of SunRADON, as well as the American Thoracic Society, Lung Cancer Foundation of America, Go2 Foundation for Lung Cancer, Boehringer Ingelheim, Bellerophon Therapeutics and GRAIL.
About Mediaplanet
Mediaplanet specializes in the creation of content marketing campaigns covering a variety of industries. We tell meaningful stories that educate our audience and position our clients as solution providers. Our unique ability to pair the right leaders with the right readers, through the right platforms, has made Mediaplanet a global content marketing powerhouse. Our award-winning stories have won the hearts of countless readers while serving as a valuable platform for brands and their missions. Just call us storytellers with a purpose. Please visit http://www.mediaplanet.com for more on who we are and what we do.
Press Contact:
Isabelle Garrity
Isabelle.garrity@mediaplanet.com
646-518-5421