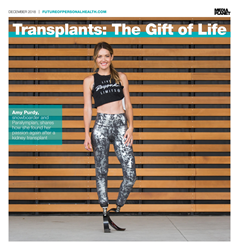 One organ donor can save up to 8 lives.
NEW YORK (PRWEB) December 17, 2018
Mediaplanet today announces the launch of this December's issue of "Transplants: The Gift of Life " This cross-platform campaign raises awareness regarding organ transplantation while encouraging readers to sign up as an organ and/or whole-body donor for the 120,000 people in the United States who are currently waiting for a lifesaving organ transplant.
One organ donor can save up to 8 lives, however, an average of 22 people die every day waiting for an organ. Unfortunately, those outside of the transplant community have little awareness of these facts, and this campaign sheds light onto the impact organ donation has had on recipients while highlighting the very best resources and services that are available for those who need it the most.
The print component of "Transplants: The Gift Life" is distributed within today's edition of USA Today in New York, Los Angeles, the Carolinas, Atlanta, Houston, and Washington DC/Baltimore markets, with a circulation of approximately 250,000 copies and an estimated readership of 750,000. The digital component is distributed nationally, through a vast social media strategy, and across a network of top news sites and partner outlets. To explore the digital version of the campaign, visit: http://www.futureofpersonalhealth.com/topic/transplants
This campaign was made possible with the support of the American Society of Transplantation, National Kidney Foundation, American Kidney Fund, Children's Organ Transplant Association, UNC Health, UW Health, DKMS, Viracor Eurofins, Scripps Health, FCB Health Network and Tampa General Hospital.
About Mediaplanet
Mediaplanet specializes in the creation of content marketing campaigns covering a variety of industries. We tell meaningful stories that educate our audience and position our clients as solution providers. Our unique ability to pair the right leaders with the right readers, through the right platforms, has made Mediaplanet a global content marketing powerhouse. Our award-winning stories have won the hearts of countless readers while serving as a valuable platform for brands and their missions. Just call us storytellers with a purpose. Please visit http://www.mediaplanet.com for more on who we are and what we do.
Lindsay Waldman
lindsay.waldman(at)mediaplanet(dot)com