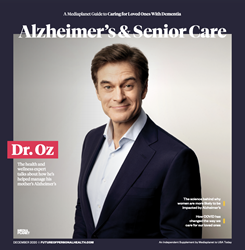 An estimated 5.5 million Americans are living with Alzheimer's, the 6th-leading cause of death in the United States
NEW YORK (PRWEB) January 01, 2021
Mediaplanet is proud to announce the launch of its cross-platform campaign "Alzheimer's & Senior Care." This campaign delivers timely insight into the exciting developments in Alzheimer's and dementia research, and highlights how readers can continue to provide care to their loved ones safely as the world continues to battle COVID-19.
An estimated 5.5 million Americans are living with Alzheimer's, the 6th-leading cause of death in the United States, and Dr. Mehmet Oz — who appears on the cover of the print campaign — is among the more than 15 million U.S. adults serving as family caregivers for loved ones with Alzheimer's disease or other dementias.
The campaign also features actress and caregiver Brandee Evans, director of the Weill Cornell Women's Brain Initiative Dr. Lisa Mosconi, and Teepa Snow, a leading expert on dementia care and founder of A Positive Approach to Care.
The print component of "Alzheimer's and Senior Care" is distributed within today's edition of USA Today in the Atlanta, Boston, Chicago, Cincinnati, Dallas, Detroit, Houston, Los Angeles, New York, San Francisco, South Florida, St. Louis/Kansas City, and Washington D.C. markets. The digital component is distributed nationally through a vast social media strategy, and across a network of top news sites and partner outlets. To explore the digital version of the campaign, visit
https://www.futureofpersonalhealth.com/campaign/fighting-alzheimers/.
This campaign was made possible by the Alzheimer's Association, Eisai, Anthology Senior Living, Diet to Go.com, Youth Movement Against Alzheimer's, Dementia Spotlight Foundation, A Positive Approach to Care, Gerontological Advanced Practice Nurses Association, Lisa Mosconi, Brandee Evans and many more!
About Mediaplanet
Mediaplanet specializes in the creation of content marketing campaigns covering a variety of industries. We tell meaningful stories that educate our audience and position our clients as solution providers. Our unique ability to pair the right leaders with the right readers, through the right platforms, has made Mediaplanet a global content marketing powerhouse. Our award-winning stories have won the hearts of countless readers while serving as a valuable platform for brands and their missions. Just call us storytellers with a purpose. Please visit http://www.mediaplanet.com for more on who we are and what we do.
Press Contacts:
Victoria Borkowski
(860) 989-5747
victoria.borkowski@mediaplanet.com
Isabel Carretero
(214) 600-3753
isabel.carretero@mediaplanet.com