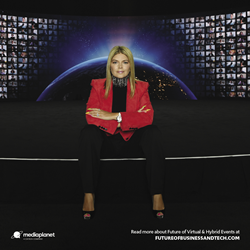 NEW YORK (PRWEB) June 10, 2021
Mediaplanet announces the launch of its cross-platform campaign "Future of Virtual and Hybrid Events." With 90 percent of event marketers planning to invest in virtual events moving forward, and 97 percent believing we will see more hybrid events in 2021, this campaign will be an educational guidebook for the modern meetings and event marketing professional. The campaign will tout for the benefits of hosting a virtual or hybrid event to better engage attendees, network with industry affiliates, and grow the organization's bottom line. It will also shed light on the available technologies, resources, and information that are helping these professionals to plan, promote, and deliver these exceptional event experiences.
At the beginning of 2020, the events industry — like so many others — was completely upended by the COVID-19 pandemic. Event and meeting organizers were forced to make remarkable changes in a short period of time, and companies with a year's worth of events in their pipelines had to face incredibly difficult decisions about whether to cancel, postpone, or adopt virtual/hybrid solutions. Today, over 72 percent of meeting and event planners say they were not properly set up for virtual and hybrid events.
To help equip and educate these professionals for the future, this campaign highlights the available products, technologies, and resources that can help plan, promote, and deliver exceptional virtual and hybrid events. These resources include innovative and immersive technology like Worre Studios; real-time translation software like KUDO; safe and hybrid-event-friendly meeting destinations like Disney Meetings & Events; and fully encompassed virtual event platforms like Encore, Intrado, Aventri, and MeetingPlay.
This campaign is a divergent thinking tool for business leaders and meeting professionals looking for safe, accessible, and collaborative meeting destinations to host in-person and hybrid events, and more effectively network and engage attendees in the coming year.
The print component of "Future of Virtual and Hybrid Events" is distributed within today's edition of USA TODAY in the Chicago, Atlanta, Philadelphia, Baltimore, Florida, Detroit, New York, San Francisco, Washington D.C., Cincinnati, Nashville, New Orleans, and Los Angeles markets, with a circulation of approximately 150,000 copies and an estimated readership of 450,000. The digital component is distributed nationally through a vast social media strategy, and across a network of top news sites and partner outlets. To explore the digital version of the campaign, visit: futureofbusinessandtech.com/campaign/virtual-events.
About Mediaplanet
Mediaplanet specializes in the creation of content marketing campaigns covering a variety of industries. We tell meaningful stories that educate our audience and position our clients as solution providers. Our unique ability to pair the right leaders with the right readers, through the right platforms, has made Mediaplanet a global content marketing powerhouse. Our award-winning stories have won the hearts of countless readers while serving as a valuable platform for brands and their missions. Just call us storytellers with a purpose. Please visit http://www.mediaplanet.com for more on who we are and what we do.
Press Contact:
Chandler Bishop
chandler.bishop@mediaplanet.com