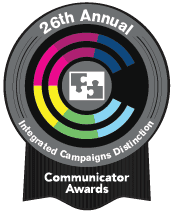 "We are thrilled our work has been recognized by such a prestigious awards program. Each of our campaigns are carefully crafted with a commitment to the highest quality content and relevant storytelling. This is a huge win for our production and publishing teams."
NEW YORK (PRWEB) May 20, 2020
The Academy of Interactive & Visual Arts' esteemed 26th Annual Communicator Award winners have recently been announced and Mediaplanet wins big with three overall Awards of Distinction that include two client-branded content pieces – "Why Second Chance Employment Works" sponsored by Dave's Killer Bread Foundation and "How One Woman's Engineering Journey Serves to Uplift and Support Other Women" sponsored by T-Mobile. The third Distinction Award was in the category of overall Integrated Campaign, celebrating Mediaplanet's recently published Small Business campaign that features sponsors CISCO, American Airlines and Constant Contact to name a few.
The Communicator Awards is the leading international awards program recognizing big ideas in marketing and communications. Founded nearly three decades ago. The Communicator Awards receives over 6,000 entries from companies and agencies of all sizes, making it one of the largest awards of its kind in the world.
"We are thrilled our work has been recognized by such a prestigious awards program," said Luciana Olson, Mediaplanet's U.S. Managing Director. Each of our campaigns are carefully crafted with a commitment to the highest quality content and relevant storytelling. This is a huge win for our production and publishing teams."
Mediaplanet's "Small Business" campaign featured stories and op-eds by industry leaders and renowned advocates such as John Paul Dejoria - founder of Patron spirits and haircare empire, Paul Mitchell, Elizabeth Douglas – CEO of WikiHow, Bob Parsons – Founder of GoDaddy, U.S. Chamber of Commerce, Tory Burch and many others. The campaign covers the main challenges that small businesses face, provides resources and insights from industry experts, and highlights the organizations that are helping to drive their success.
The two branded content pieces that won both cover the incredible stories of individuals who have overcome adversity and are now thriving within their communities. You can read both fully published articles here and here.
About Mediaplanet
Mediaplanet specializes in the creation of content marketing campaigns covering a variety of industries. We tell meaningful stories that educate our audience and position our clients as solution providers. Our unique ability to pair the right leaders with the right readers, through the right platforms, has made Mediaplanet a global content marketing powerhouse. Our award-winning stories have won the hearts of countless readers while serving as a valuable platform for brands and their missions. Just call us storytellers with a purpose. Please visit http://www.mediaplanet.com for more on who we are and what we do.