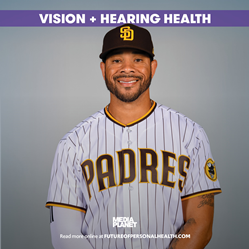 Most people are unaware of the concerns of early stages of vision and hearing loss that can result in significant damage.
NEW YORK (PRWEB) March 26, 2020
Mediaplanet today announces the launch of this year's edition of the "Vision and Hearing Health" publication. This campaign will cover the day-to-day vision and hearing struggles that our patients, seniors, caregivers, and medical professionals fight through as well as display the best solutions to keep the quality of life to these individuals sustainable.
Most people are unaware of the concerns of early stages of vision and hearing loss that can result in significant damage. These types of disabilities can include keratoconus, thyroid eye disease, significant hearing loss, tinnitus and cochlear damage in which can all lead to a lack of quality of life. As every struggling patient is determined to focus on his or her own task at hand rather than treatment, there have been to many instances of avoidable risks taking place that result in these various types of impaired vision and loss of hearing. This campaign will assist and shed light on factors that patients should be aware of in order to maximize their quality of life.
MLB's and San Diego Padres outfielder Tommy Pham overcame the odds with a rare eye condition: keratoconus. Tommy Pham is the only player in the MLB to play ball with a rare eye condition. Now, he wants to use his story to inspire others with the disease to seek treatment. "I'm very fortunate in the MLB with keratoconus, but from my success I'm able to help others," he said. A healthy cornea is shaped like a dome. With keratoconus, the cornea bulges out like a cone, affecting the way light reflects in the eye and blurring vision, according to the American Academy of Ophthalmology. Pham, now 31, was diagnosed with keratoconus in 2008 after struggling at-bat for two seasons. The diagnosis was a relief. He recalled thinking, "I'm definitely [going to] start hitting the ball better when I get my vision right."
The print component of "Vision and Hearing Health" is distributed within today's edition of USA Today in New York, Chicago, Los Angeles, San Francisco, Boston, Washington D.C./Baltimore, Philadelphia, Dallas markets, with a circulation of approximately 200,000 copies and an estimated readership of 600,000. The digital component is distributed nationally, through a vast social media strategy, and across a network of top news sites and partner outlets. To explore the digital version of the campaign, visit: https://www.futureofpersonalhealth.com/campaign/vision-and-hearing/
This campaign was made possible with the support of Sony Electronics, Glaukos Corporation, Sonova: Phonak, Horizon Therapeutics, Avellino Labs, OCULUS Inc., Tommy Pham, Dr. Neda Shamie, Dr. Robert Maloney, International Keratoconus Academy (IKA), Association of Medical Professionals with Hearing Loss (AMPHL), American Association for Pediatric Ophthalmology and Strabismus (AAPOS), and American Cochlear Implant Alliance (ACIA).
About Mediaplanet
Mediaplanet specializes in the creation of content marketing campaigns covering a variety of industries. We tell meaningful stories that educate our audience and position our clients as solution providers. Our unique ability to pair the right leaders with the right readers, through the right platforms, has made Mediaplanet a global content marketing powerhouse. Our award-winning stories have won the hearts of countless readers while serving as a valuable platform for brands and their missions. Just call us storytellers with a purpose. Please visit http://www.mediaplanet.com for more on who we are and what we do.
Press Contacts:
Dalila Radoncic
Dalila.Radoncic@mediaplanet.com
(732) 535-6031