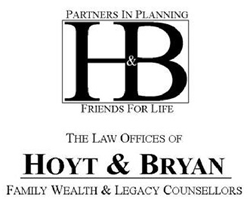 Our goal is to bring the experience we have shared with clients in Central Florida to a wider audience through Mediation.com. - Peggy R. Hoyt
Oviedo, Florida (PRWEB) August 14, 2013
The Law Offices of Hoyt and Bryan, LLC recently announced it has affiliated with Mediation.com, the premier online destination for consumers seeking dependable mediation services. Hoyt and Bryan understand what this partnership can do for their practice in attracting more potential clients as they expand their online presence.
The Law Offices of Hoyt & Bryan, LLC is known as Central Florida's leading estate planning and elder law firm. "We are very excited to work with Mediation.com," said Peggy R. Hoyt, one of the firm's attorneys who is a Florida Supreme Court certified mediator and Board Certified by the Florida Bar in Elder Law as well as in Wills, Trusts and Estates. She added, "Teaming up with Mediation.com will allow us to become more visible and easier to find by individuals and families who are looking online for counseling and legal advice necessary to develop personal estate plans and provide asset protection for long term care." Mediation.com allows users to search for a mediation attorney by specialty or state.
The partnership makes perfect sense. "Our goal is to bring the experience we have shared with clients in Central Florida to a wider audience through Mediation.com," Hoyt said. "We host educational forums for individuals and families, their CPAs and other trusted financial advisors. We supplement that information with our newsletters, blogs, and books." Both Randy Bryan and Peggy Hoyt have been featured in the national and local news.
Peggy R. Hoyt is a Florida Circuit Court mediator and in that capacity her primary focus is resolving pet related disputes, family business and estate matters. Cases involving families (including pets) are often emotional. Hoyt said her job as a mediator is to help calm the emotions and guide the parties to a resolution. Her experience as an attorney specializing in wills, trusts and estates, a business owner and passionate pet lover helps her advise parties about the complicated laws.
"One overlooked aspect of estate planning is what will happen to the pets if their owner passes away," Hoyt said. She is closely involved with legal issues involving pets. She maintains a blog, http://www.PetDisputes.com, and is the author of both "All My Children Wear Fur Coats – How to Leave a Legacy for Your Pet" and the "Pet Lover's Guide to Mediation." She is also the founder of the Center for Animal Advocacy (http://www.CenterforAnimalAdvocacy.com), an animal law resource center and Animal Care Trust which provides trust services exclusively for pet trusts.
About Hoyt and Bryan: Founded in 1999 and located in Oviedo, Fla., Hoyt and Bryan, LLC is the only Florida law firm with two attorneys board certified in wills, trusts and estates and elder law. Randy Bryan and Peggy Hoyt host educational forums in Central Florida and maintain an active presence in the elder law community. As long time members of WealthCounsel, ElderCounsel, the National Academy of Elder Law Attorneys, and the Academy of Florida Elder Law Attorneys both Randy and Peggy bring significant legal experience to their growing practice.