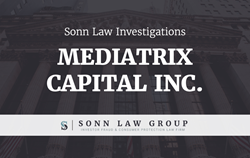 The SEC brings this emergency enforcement action to halt a fraudulent, ongoing international trading program that has placed at risk more than $125 million of investors' funds.
AVENTURA, Fla. (PRWEB) September 20, 2019
On September 18, 2019 the SEC brought an emergency enforcement action against Mediatrix Capital INC. in order to immediately halt what it alleges is "a fraudulent, ongoing international trading program that has placed at risk more than $125 million of investors' funds." (See Securities and Exchange Commission v. Mediatrix Capital Inc., et al., No. 1:19-cv-02594-RM)
The filing lists the following defendants:

Michael S. Young ("Young")
Michael S. Stewart ("Stewart")
Bryant E. Sewall ("Sewall"),
Mediatrix Capital Inc. ("Mediatrix Capital")
Blue Isle Markets Inc. ("Blue Isle 1")
Blue Isle Markets Ltd. ("Blue Isle 2")
According to the SEC complaint, Mediatrix told investors that from December 2013 through at least March 2019 their trading strategy had never had an unprofitable month and had returned more than 1,600%. Mediatrix further claimed that their highly successful trading strategy had enabled Mediatrix Capital to accumulate assets under management of $225 million as of the end of 2018.
The SEC alleges that none of this was true.
Instead, the SEC alleges that Mediatrix "misappropriated more than $35 million of investors' money by transferring it out of the Entity Defendants' bank and brokerage accounts rather than using the money for trading" and that Mediatrix used investors' money to buy luxury houses and cars, in addition to "other improper expenditures to perpetuate the fraud."
Mediatrix allegedly induced continued investments by lying to investors about profits, falsifying investor account statements, and making payments to investors who opted to cash out their "profits" in a "Ponzi-like fashion".
Based on these allegations, the Sonn Law Group is investigating Mediatrix Capital Fund and it's subsidiaries on behalf of investors. Under FINRA Rules, brokerage firms may be held liable for their brokers' misconduct, as well as other possible claims such as, negligence, aiding or abetting fraud, or fraudulent inducements. Investors may be able to recover their investment losses through court or arbitration.
If you are an investor in Mediatrix Capital, and wish to discuss your claims, contact investigating attorney Jeffrey Sonn online (SonnLaw.com/Mediatrix) or by phone at 866-266-1766.
The Sonn Law Group represents investors who have sustained losses due to the negligence or misconduct of their broker and/or brokerage firm, including cases involving Ponzi schemes. If you are looking for an investment fraud attorney to review your rights and options, the lawyers at Sonn Law Group represent individual and institutional investors who have lost money as a result of unsuitable investment advice, negligent advice, investment fraud or stockbroker misconduct. Our attorneys have helped to recover more than $250 million in assets lost to investment fraud, securities fraud, Ponzi schemes, and stockbroker misconduct.