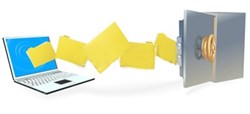 Time spent in the waiting room filling out pages of medical history is reduced, allowing therapists to provide treatments in a quicker and more efficient manner.
Denville, NJ (PRWEB) December 31, 2013
"EMR offers a wealth of benefits over traditional paper records. Insurance cards, photos and x-rays can all be entered into a laptop or tablet in multiple formats. The latest physical therapy software offers significant advantages over paper documents," said Chhoda. "Having this type of physical therapy EMR system enhances the practices' efficiency and productivity. It also offers a secure means of documenting a wide range of information."
Chhoda noted that EMRs are changing the way medicine is practiced, from scheduling to billing, allowing practice owners to document every aspect of a patient's visit in real time as exams and treatments are taking place. Every single detail can be entered, from symptoms and prescriptions to billing information.
According to Chhoda, EMRs offer a whole-office system of practice and patient management. Therapy scheduling software allows clients to make appointments online, provide insurance information, and set up a patient profile before they ever visit the office.
Time spent in the waiting room filling out pages of medical history is reduced, allowing therapists to provide treatments in a quicker and more efficient manner. .They are able to save time and effort, allowing them to initiate treatment without the need to wait for referrals and paper documents to be faxed or mailed. Labs and test results can be sent to the clinic electronically, along with inter-office memos.
Chhoda noted that an often overlooked facet of an electronic medical records system is the marketing capabilities. EMRs provide therapists with the means to document referrals and monitor marketing efforts. Clinics need new patients to grow, and electronic documentation provides the analytical tools to market successfully for an expanding practice.
The EMR's biggest advantage is having an electronic billing because the process of medical billing is quick and can be ready for submission before patients have completed their treatment. Data can also be saved and batch submitted at the end of the day. Clinics enjoy better cash flow for a more profitable business.
Chhoda said that the possibility always exists for a lawsuit and reimbursement paybacks. Occupational therapy software provides a date stamped record for complete accuracy. EMRs provide multiple billing and coding options to reduce mistakes, errors and paybacks.
He shares new ways to utilize physical therapy documentation software and offers the free In Touch EMR. His expertise assists therapists with the transition process and helps them establish an EMR in their practice before the 2014 deadline.
Chhoda's office can be reached by phone at 201-535-4475. For more information, visit the website at http://www.emrnews.com.
About Nitin Chhoda
Nitin Chhoda PT, DPT is a licensed physical therapist, a certified strength and conditioning specialist and an entrepreneur. He is the author of "Physical Therapy Marketing For The New Economy" and "Marketing for Physical Therapy Clinics" and is a prolific speaker, writer and creator of products and systems to streamline medical billing and coding, electronic medical records, health care practice management and marketing to increase referrals. He has been featured in numerous industry magazines, major radio and broadcast media, and is the founder of Referral Ignition training systems and the annual Private Practice Summit. Chhoda speaks extensively throughout the U.S., Canada and Asia. He is also the creator of the Therapy Newsletter and Clinical Contact, both web-based services to help private practices improve communication with patients, delivery better quality of care and boost patient retention.