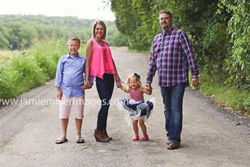 We are hoping to help pay down some of the Doctor's bills along with the travel bills associated with the visits to help take some of the pressure off the Stein family. On behalf of the Stein family, thank you for all your thoughts and prayers
Olathe, KS (PRWEB) August 24, 2017
Protection Solutions, a privately managed agency offering insurance management assistance and financial planning services to the greater Kansas City area, is embarking on an extended charity drive to raise community assistance for Stacy Barnett-Stein, a local mother of two recently diagnosed with Ehlers Danlos Syndrome.
Ehlers Danlos Syndrome (EDS) is a highly uncommon disorder, with less than 200,000 cases per year reported nationally. EDS attacks connective tissues that support the skin, bones, blood vessels, and organs, leading to weakness, loss of mobility, and organ failure. Stacy currently requires several medical treatments per week to battle the disease, but her husband travels for work, and the Stein family is facing a heavy financial burden for Stacy's ongoing care and travel expenses.
"We are hoping to help pay down some of the Doctor's bills along with the travel bills associated with the visits to help take some of the pressure off the Stein family. On behalf of the Stein family, thank you for all your thoughts and prayers," says Jeremy Schafer, owner and managing member of Protection Solutions.
Schafer and his team are organizing support for Stacy and her family by reaching out to local families, business owners, and associates over email and social media platforms. Further efforts to bring in support for the cause will include a cover article discussing the charity event scheduled for immediate release in the new edition of "Our Hometown," a regional webzine hosted by Protection Solutions: http://protectionsolutionsllc.com/magazines/.
This is the second charity drive hosted by Protection Solutions since joining the "Agents of Change" network. As regional representatives of the growing charity support movement, Schafer and his team are committed to working with new regional charities and nonprofits on a regular basis.
For all those who would like to know more about Stacy Barnett-Stein and her battle with EDS, and for those who want to join the Protection Solutions team and be part of the charity event, more information is available here: http://protectionsolutionsllc.com/causes/slowing-down-the-speeds/. New charity events sponsored by Schafer and the Protections Solutions team will be announced from the agency's Community Causes page: http://protectionsolutionsllc.com/community/.
About Protection Solutions
As a Personal Finance Representative in Olathe, agency owner Jeremy Schafer knows many local families. His knowledge and understanding of the people in his community ensures that clients of Protection Solutions are provided with an outstanding level of service. Jeremy and his team look forward to helping families protect the things that are most important - family, home, car and more. Protection Solutions also offers clients a preparation strategy for achieving their financial goals. To contact an expert at Protection Solutions, visit http://protectionsolutionsllc.com/ or call (913) 782-0101 in Olathe or (913) 851-1499 in Overland Park.