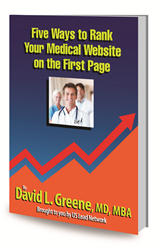 These five methods have helped US Lead Network achieve first page rankings for over 100 healthcare clients!
Scottsdale, Arizona (PRWEB) August 22, 2017
Top Medical SEO firm, US Lead Network, is now offering a complimentary Ebook, "Top 5 Ways to Rank Your Medical Website on First Page." The Ebook details the top methods that the best SEO professionals utilize to achieve first page rankings time and time again.
One of the takeaways from the book is that it is critical to incorporate a broad approach to internet marketing for a medical practice. Competition is fierce to acquire the best insured or self pay patients these days, and those practices who show up the highest on the search engines stand the best chance.
Both on page and off page methods are used for the highest chances of search engine success. This includes quality content, link building and proper coding along with a web presence that is attractive and looks great on all devices.
US Lead Network has helped over a hundred medical practices achieve online success. This has included most medical specialties, dentists, medical billing companies, medical device companies and more.
"These five methods, and many others, have helped us achieve first page rankings for over 100 healthcare clients. Our system works because of our team's commitment to detail and the broad based approach!" said CEO David Greene.
Currently, US Lead Network is offering a free thirty minute phone consultation with CEO David Greene, MD, MBA. For years, Dr. Greene utilized top healthcare internet marketing methods to achieve 80% patient acquisition from the web. Eventually he wrote a book on the subject and now offers Ebooks such as the current one. Call (877) 791-6466 to sign up.