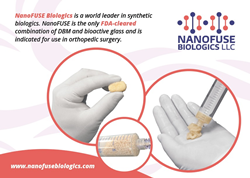 KICVentures Group announces a medical breakthrough in closing the acquisition and bringing to market NanoFUSE Biologics, the first and only FDA-cleared synthetic combination of a patented bioactive glass plus demineralized bone matrix (DBM).
MALDEN, Mass. (PRWEB) December 22, 2020
KICVentures Group is excited to announce it has closed the NanoFUSE Biologics acquisition with the final milestone payment made in September 2020. The acquisition was entered in March 2018 and structured as a five-year deal with milestones.
With the increasing interest of NanoFUSE products and fast-growing adoption, we are pleased to complete the acquisition within three years by accelerating milestone payments. Since the acquisition in 2018, we have established the manufacturing process, engaged distribution partners, focused on quality and secured a pipeline of product innovation, along with an esteemed medical advisory board.
Aditya Humad, CFO of KICVentures Group stated that: "With an accelerated closure of this acquisition, we are positioned to independently negotiate strategic partnerships and prepare the company for an IPO in 3 years."
Dr. Kingsley R. Chin, CEO of KICVentures Group and board-certified orthopedic spine surgeon said, "This acquisition was a medical breakthrough in that we are able to bring this differentiated product, the sole one in its category with FDA clearance, to a crowded global biologics market. The 5-year shelf life is a powerful advantage in the international market."
About NanoFUSE Biologics
NanoFUSE Biologics is a world leader in synthetic biologics. NanoFUSE is the only FDA-cleared combination of DBM and bioactive glass and is indicated for use in orthopedic surgery. NanoFUSE Biologics is a KICVentures group portfolio company. http://www.nanofusebiologics.com
About KICVentures Group
KICVentures Group is a privately held global corporation who since 2005 has been leading waves of change with differentiated health technologies with a deep focus on outpatient less invasive spine surgery. The company has headquarters in Boston, USA. http://www.kicventuresgroup.com