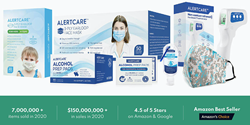 Don't forget to put health and safety on your Black Friday shopping list.
CHEYENNE, Wyo. (PRWEB) November 03, 2020
VastMedic LLC, an online retailer of high-demand medical and personal care items, wants to make it easier for Americans to travel safely during holiday celebrations this year by rolling out special seasonal discounts on products designed to protect them from COVID-19.
In advance of this year's holiday shopping season, VastMedic will launch multiple deals tied to Halloween, Black Friday, and the Christmas shopping season. The ecommerce marketplace will offer deep discounts on a number of must-have COVID-19 medical supplies, including disposable and reusable cloth face masks for children and adults, travel size hand sanitizers, 75 percent alcohol prep pads, non-contact forehead thermometers, gloves, and more.
The Cheyenne-based company is a trusted and rapidly growing U.S. supplier with a focus on offering an array of high quality products in high demand by consumers everywhere while carrying medical and personal care products that are easy to use, priced affordably, and delivered quickly. They are an authorized distributor of Alert Care brand medical supplies. Alert Care is a 35-years-old company initially founded to offer home alert devices for elders. Over the years, the company has expanded to offer health and wellness products.
Vastmedic spokesperson Christopher Lee said he chose to distribute Alert Care's full line of products for the manufacturer's long history, high caliber products, and patient-centric approach.
"We want to reassure Americans that they will be able to travel safely when seeing their loved ones during the holidays by equipping them with the protective gear and medical supplies they need to protect themselves during a global pandemic," Lee said. "We are dedicated to delivering the highest quality products with the best service and value while helping customers receive the care they deserve."
VastMedic offers free shipping on orders over $50 and a 30-day money-back satisfaction guarantee on all products.
Learn more about VastMedic, view their Halloween, Black Friday, and Christmas deals, and shop online at https://vastmedic.com. Follow the company on Facebook (@Vastmedicofficial), Twitter (@vastmedic) and Instagram (@vastmedic).