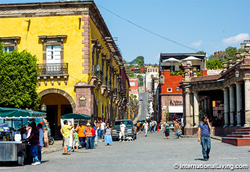 With rising costs of surgery in the U.S. we see more and more people going overseas as medical tourists.
BALTIMORE (PRWEB) December 05, 2018
"Typically, a knee replacement costs $35,000 in the United States," says International Living Executive Editor, Jennifer Stevens. "Take that amount to one of the best-value locales we recommend abroad—places where where healthcare is high quality but prices are low—and you could not only have your knee replaced by a well-qualified surgeon in a state-of-the-art facility, but you could also afford to take a year off and relax—all expenses paid.
"With rising costs of surgery in the U.S. we see more and more people going overseas as medical tourists. It can be a great way to test-drive a retirement outside of the States. Have a procedure done and then spend a few months recuperating—it'll cost less than the surgery alone in the States. Folks already living abroad regularly praise the quality of care and the friendly, welcoming doctors, which complement the low price tags quite nicely."
The International Living report details five great retirement hubs that offer knee replacements at a fraction of the U.S. cost.
Mexico
Mexico has long been a favorite for expats looking for a haven where they can make the most of their retirement, full- or part-time. The country's close proximity to the U.S. and Canada—as well as its affordable cost of living and great healthcare—attracts folks looking for a nearby option.
In Mexico, every medium to large city has at least one first-rate hospital. And a big plus is that most doctors and dentists in Mexico received at least part of their training in the U.S.
In 2001, Patrice Wynne moved from the San Francisco Bay Area to San Miguel de Allende, in Mexico's Colonial Highlands. She started a fair-trade boutique, Abrazos San Miguel, offering textile products created with Mexican seamstresses.
When Patrice needed not one but two knee replacements, she found the level of care and professionalism among medical staff in the nearby city of Queretaro to be first-class—not to mention significantly cheaper than in the States.
"Several people have expressed surprise when I shared that I was not in major excruciating pain from having both knees replaced at the same time," she says. "When I interviewed Dr. Fidel Dobarganes I asked many questions about the pain issue. He assured me that he has a pain-management plan that works, that it did not involve addictive drugs, and that on a post-op patient survey of pain level ranked 1-10, his patients scored 2 as the average. It proved to be true.
"I chose Dr Dobarganes after our first meeting because of his humanity, as well as his reputation and patient references—he has done 8,000 knee and hip surgeries and has been trained in Mexico, the U.S., and Germany.
"When I was wheeled into the operating room, I was dumbstruck by the modern new equipment. In fact, everything about my operation and the stay in the hospital was sophisticated.
"My total costs were originally estimated at just over $19,500. But because of my work in the community, the doctor obtained a reduction of $7,350 for the hospital stay, so the final cost for the dual surgery was $12,250. And it is customary in Mexico to allow a family member to stay in the room at no cost, including hospital cafeteria meals. My husband had his own bed in my room for four days.
"[By contrast,] when I called to have my initial consultation with the surgeon I was hoping to use in Northern California, the cost was $1,250 plus $500 in X-rays. The initial visit and subsequent post-op visits to see Dr Dobarganes in Queretaro were $40 each with $20 in X-ray fees."
Panama
Panama provides affordable, good-quality healthcare, anchored by the excellent clinics and hospitals in Panama City, which enjoys a top-notch reputation throughout Latin America. Clinics and hospitals are strategically positioned throughout Panama, however, and so it's rare that retirees find themselves based more than an hour from a modern facility.
"A knee replacement in Panama will run you around $12,000 in the capital city or even less in smaller towns," says IL Panama Editor, Jessica Ramesch.
"So, for the $35,000 you'd pay in the States, you could pay for your flights and the surgery here, and you would struggle to spend more than $3,000 touring Panama before your surgery.
"Heck, you could bring five friends or family members along and pay for their rooms and meals and still come out ahead."
Ecuador
One of the great benefits for foreign residents living in Ecuador is high-quality, low-cost healthcare. IL Correspondent Donna Stiteler lives in Ecuador's third-largest city and the economic center of the Southern Sierra, Cuenca.
Cuenca has several top-notch hospitals, and many of the physicians have studied abroad and are bilingual. For the quality of care offered, costs are amazingly low—an office visit runs around $30.
Donna says, "Here, a knee joint replacement costs $7,000 and $1,300 for arthroscopic surgery on the joint. That's a whole lot cheaper than the U.S.
"In Cuenca, a couple can live well on $1,680 a month—$20,160 or a year—so even after having knee surgery, you and your other half can live for over a year on what the surgery along would cost in the States."
France
France offers a healthcare system that is world-class. And prices typically run well below those in the States.
"Here in France, the average cost for a knee replacement is around $13,700, so you're going to be over $21,000 better off if you have your dodgy knee replaced in France, while enjoying one of the best cultures the world has to offer," says IL South of France Correspondent, Stewart Richmond.
"What about a car? From the change left over from your knee bill, you could buy a classic Jaguar XJS 1988—just the thing for the narrow medieval streets of sophisticated France.
"And for those who really want to impress their friends back home, what about a bottle of France's top-notch wine, DRC Domaine de la Romanee-Conti Grand Cru, Cote de Nuits. A lovely drop to crack open at your next cook-out with the neighbors. You can pick a bottle up for around $16,000 and still have a little left over to pay for the steak.
"But U.S. retirees who choose France for their retirement have an added bonus. After three months residency you can enter the French health system which means up to 70% of the money you spend on your knee replacement will be refunded by the Government. Winning all round."
Italy
Although Italian healthcare costs vary based on a number of factors including region and whether you have private insurance or not, expats report costs as reasonable.
IL Italy Correspondent, Valerie Schneider says, "a knee replacement if you go private and pay, costs about $22,729. That's savings of more than $12,000—you could rent a country villa in Tuscany with pool for eight weeks at $1,500 a week. Or it would buy you a pair of Vespa motor scooters to explore Italy and still have money left for the insurance and gas for a couple of years.
"If you have insurance coverage, the cost of the surgery would depend on coverage but range between $1,200 to $3,000. If you are enrolled in Italy's national healthcare system, the cost is zero. That means that you could conceivably buy a house in Italy with the same money as it would have cost just to get your knee replaced back home—yes, there are village homes for sale at that price! Or you could buy a sporty Alfa Romeo—along with insurance coverage.
"A couple could also fund their living expenses for almost two years in a charming Italian town like Umbria—the region that lies between Rome and Florence at Italy's geographic center—or Basilicata, a hidden gem tucked into the ankle of 'the boot,' speckled with verdant valleys, deep forests, rolling hills, and alpine peaks."
Bonus: Vietnam
Southeast Asia offers incredible value for money and is becoming increasingly popular on folks' retirement radars as a place to vacation while test-driving retirement overseas.
Vietnam has a lot to offer its growing expat population—it's a brilliant blend of East and West. A vibrant destination, steeped in history and brimming with opportunity. When it comes to bang for your buck, Vietnam is at the top of the list. And the country is full of surprises—and wonder.
Until recently, most expats in Vietnam chose to seek medical care in Bangkok, Kuala Lumpur, or Singapore for all but the simplest procedures. In the past few years, however, Vietnam's healthcare system has improved dramatically.
New hospitals have been built in several smaller cities, including Nha Trang, Vung Tau, and Phu Quoc, and there are now two internationally accredited general hospitals, one in Hanoi and the other in Ho Chi Minh City.
"The cost of a knee replacement at the JCI-accredited FV Hospital in Ho Chi Minh City is between $7,750 and $9,250 with the average price around $8,000," says IL Vietnam Correspondent Wendy Justice. "That leaves $27,000 to spend at will. For any medical tourist, that's one luxurious medical vacation in Vietnam...
"You could go for a month. The high-end budget looks like this—Knee replacement: $8,000. Airline tickets: $1,500. Five-star hotels in Vietnams: $6,000 (30 days at $150 per day). High-end restaurants in Vietnam: $1,950 (30 days at $65 per day). And back in the States there's money left to by a brand-new Nissan Sentra: $17,550."
The report can be found here: Medical Tourism: Turn a Knee Replacement into a Lengthy Vacation in these 5 Spots
Editor's Note: Members of the media have permission to republish the article linked above once credit is given to Internationalliving.com
Further information, as well as interviews with expert authors for radio, TV or print, is available on request. Photos are also available.
For information about InternationalLiving.com content republishing, source material or to book an interview with one of our experts, contact PR Managing Editor, Marita Kelly, +001 667 312 3532, mkelly@internationalliving.com
Instagram: https://www.instagram.com/internationalliving/
Twitter: @inliving — https://twitter.com/inliving?lang=en
Facebook: https://www.facebook.com/International.Living/
About International Living
Since 1979, InternationalLiving.com has been the leading authority for anyone looking for global retirement or relocation opportunities. Through its monthly magazine and related e-letters, extensive website, podcasts, online bookstore, and events held around the world, InternationalLiving.com provides information and services to help its readers live better, travel farther, have more fun, save more money, and find better business opportunities when they expand their world beyond their own shores. InternationalLiving.com has more than 200 correspondents traveling the globe, investigating the best opportunities for travel, retirement, real estate, and investment.