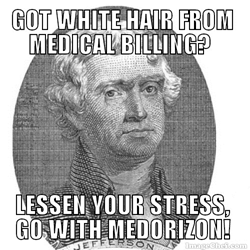 Chicago, IL (PRWEB) August 28, 2014
The revenue cycle process touches on nearly everything related to the healthcare industry from the time a patient books an appointment with a physician's office, until the patient and insurance company provide final payments for services rendered to the healthcare provider. Medorizon a national based medical billing service has the RCM process down to a science. Over the past few decades, software programs and computers become common place in nearly every healthcare facility around the globe. While the goal of revenue cycle management remains essentially the same, healthcare reform has made this process considerably more complex due to reduced reimbursements and the onset of ICD-10 in October 2015 with the thought that provider reimbursements will be directly tied to quality as opposed to quantity.
According to a recent article on "7 Reasons to outsource your Billing", the outsourcing of billing and collections continues to grow because hospitals and physician groups are not very good at these non-core tasks. A 2012 survey states 96 percent of organizations are in the process of acquiring several crucial accountable care organization data solutions, including clinical decision support, RCM, health information exchange, electronic health records, e-prescribing, data center security and data storage solutions.
So it's clear that RCM will continue to remain a top-of-the-mind issue as we see how healthcare reform plays out. "As a medical billing company and proponent of automating the revenue cycle management process, below is one of the first key concepts that we at Medorizon focus on in regard to new clients as well as our existing relationships", says Tim Tobin CEO of Medorizon Inc. Establishing an accurate chargemaster is an essential, but often overlooked, component of RCM as every transaction goes through the chargemaster before being posted to a patient's account. . According to a recent study, up to 64 percent of hospitals are still using manual processes for chargemaster updates, leading to lost revenue and compliance risk. Charge-data errors not only delayed payment, but given today's regulatory and compliance restrictions, these errors can also constitute fraud and abuse. It is necessary that organizations shift away from the manual processes for maintaining the chargemaster and move toward automated maintenance in order to deliver efficiency and accuracy.
With more than 25 years experience, Medorizon is a leader in the medical billing industry. We are a complete revenue cycle management company specializing in electronic filing of insurance claims, workman's compensation, patient balance billing and collection of old receivables. Medorizon is independently owned and headquartered in Romeoville, Illinois with offices located in Michigan and Texas. We are successful in servicing healthcare providers throughout the United States. If your practice needs expert advice or services Medorizon has experience with both professional and facility billing. For many medical practices providing quality services to patients is easy—processing claims and getting reimbursement is the tedious part. Their staff manages the billing and collection process for hundreds of providers throughout the United States. Act now and take advantage of the offer to better acquaint your practice with the initial changes in moving forward to ICD-10.