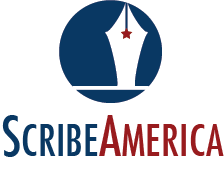 Aventura, Florida (PRWEB) February 20, 2014
ScribeAmerica, LLC the nation's most frequently used professional medical scribe training and management company, announces that it will attend HIMSS conference in Orlando Florida on February 23-27, 2014.
Each year HIMSS offers a robust platform for EHR vendors to show off their latest advancements in technology. With challenging go-lives of EHR and the decreases in productivity that are felt post implementation, hospitals and physicians are looking for solutions to ease the transition and the ongoing data entry portion of the EHR.
About ScribeAmerica
ScribeAmerica employs thousands of medical scribes across 40 states and is the nation's most widely recognized professional medical scribe education, training, and management company. ScribeAmerica is the preferred vendor for over 355 practice locations and has documented on over 13 million patient visits in 2013 alone.