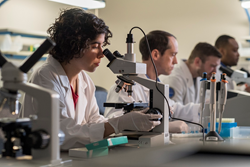 Our mission is not complete until we have given our veterans and their families the best possible opportunity for a secure future.
DALLAS (PRWEB) July 08, 2019
Medisend College has received a $15,000 grant from Bank of America Charitable Foundation that will help fund education and job placement for veterans in the General Richard B. Myers Veterans Program. The Program trains veterans to become professional field engineers and biomedical equipment technicians in the increasingly demanding healthcare industry.
"Bank of America is proud to support initiatives like the General Richard B. Myers Veterans Program that provide veterans the opportunity for economic mobility through well-paying jobs," said Bank of America Dallas Market President, Jennifer Chandler. "For the past 90 years, Bank of America has been committed to supporting the U.S. military and our veterans, and investing in our service members' transition from military life to civilian life."
Under the guidance of General Richard B. Myers, USAF (ret.), former Chairman of the Joint Chiefs of Staff, Chairman of Medisend College Board of Trustees and President of Kansas State University, the Program has a near 100% job placement rate with positive, sustainable outcomes. The Program addresses quality labor needs of employers in the healthcare industry for skilled professional biomedical equipment technicians and also responds to workforce development's demand for training veterans to find careers and to stay employed and productive.
"Bank of America's grant is significant to Medisend College's positive outcomes for our veteran students," says General Myers, "Our mission is not complete until we have given our veterans and their families the best possible opportunity for a secure future."