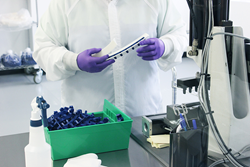 Grand Rapids, MI (PRWEB) August 10, 2017
MediSurge, a medical device contract manufacturer within the Alliant Enterprise of companies, announced today a strategic partnership with INRAD, a medical device product development, sales and marketing company. MediSurge will work with INRAD to take over all manufacturing of the company's current line of products which includes biopsy needles and accessories. The partnership will allow INRAD to expand their product line into the surgical arena while bringing devices to market faster.
"This partnership will allow us to bring world class products here for development while taking advantage of MediSurge's lean manufacturing processes," said Steve Field, president of INRAD. "We anticipate doubling our sales over the next 3 years as we expand our product offerings and find additional efficiencies in the manufacturing process. We are currently receiving product ideas from radiologists around the country and have licensed technology from U of M for a product in the surgical market."
As part of the alliance, MediSurge will hire current INRAD manufacturing staff which includes a quality assurance technician, manufacturing engineer and several operators.
"MediSurge is an ISO 13485 contract manufacturer focused on quality, results and efficiency," said Dan Byers, general manager of MediSurge. "Customer relationships are at the forefront of what we do, with a focus on saving money through our streamlined manufacturing process, expedited manufacturing lead times and lean principles.  We get creative on taking the cost out of the entire supply chain. It's that creativity that makes us unique."
INRAD has received a number of patents and developed products within the biopsy arena such as needles for breast, prostate, lung, liver, kidney, pancreas, lymph nodes and biopsy accessories. In 2006 the company sold off some intellectual property and used the funds to reinvest in product development. The MediSurge partnership allows the company to realize cost-savings through their expertise in manufacturing.
Alliant Enterprises is the umbrella company of MediSurge which also includes Surge Cardiovascular and Alliant Healthcare. Alliant Enterprises was formed to focus on designing, developing, lean manufacturing, and marketing medical devices for the healthcare markets in the United States and internationally. The company was founded in 2002 and is based in Grand Rapids.
"When a lean manufacturer looks at a product and how it is made, you take it on as a challenge because it can always be done better," said Bob Taylor, owner and CEO of Alliant Enterprises. "How do you reduce labor? Improve designs to make it easier to assemble? The process is focused on every aspect of quality, cost and delivery of a product."
Taylor sees the relationship as mutually beneficial with each company using their strengths to expand capabilities and sales. "It is difficult to balance all the challenges and needs as one company alone, what we offer is the ability for INRAD® to focus on what is important for them to grow their business. INRAD relies on us to use our lean manufacturing to drive out cost," said Taylor.
The partnership will continue to evolve with Alliant leveraging INRAD's technologies to drive cost out of their own product offerings through Surge Cardiovascular. The company will utilize their own research and design to explore the possibility of complimenting the products in INRAD's market segment..
About Alliant Enterprises
Alliant Enterprises is the umbrella company for MediSurge, Surge Cardiovascular and Alliant Healthcare. The company focuses on designing, developing, manufacturing, and marketing medical devices for the healthcare markets in the United States and internationally. The company was founded in 2002 and is based in Grand Rapids, Michigan.
About MediSurge
MediSurge is a medical device contract manufacturing business with a mission to create efficient, high quality, and cost-saving solutions for its customers - while making all products in the USA. Through continuous improvement, lean manufacturing processes and cost saving measures, MediSurge finds value and shares 50% of the results with its customers.
About INRAD®
INRAD is a developer and distributor of high quality and innovative medical devices. They are proven leaders in serving the healthcare market. Products are developed in conjunction with medical professionals for use by medical professionals, with a focus on improving effectiveness and patient care