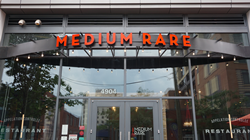 "We're proud that so many families make Medium Rare a part of their special occasions, whether it's get-togethers, birthdays, anniversaries or holidays. Thanks to the Elite Collection, we're now able to put a lot of smiles on families' faces with this ultimate Mother's Day present." -Mark Bucher
WASHINGTON (PRWEB) April 27, 2021
Roses are red, this is better. After a difficult year of isolation: Medium Rare restaurants are partnering with The Élite Collection to bring families back together for an emotional Mother's Day surprise reunion. The award-winning Washington, D.C.-area steak frite restaurant is flying in up to 10 vaccinated families to reunite them with mom (or grandma) for the first time since the pandemic hit--French Toast brunch, hugs, and tears of joy all included.
This once-in-a-lifetime opportunity is the natural bookend to last year's Mother's Day effort by Medium Rare, in which thousands of brunches were delivered to elderly moms stuck in quarantine. Now, as society reopens, Medium Rare plans to provide the ultimate Mother's Day gift. Families looking to be part of this special Mother's Day event are asked to email their stories to ilovemymom@mediumrarerestaurant.com. Medium Rare co-owner Mark Bucher will review the submissions and make 10 families' dreams come true.
In a tandem effort, Medium Rare will also personally deliver hundreds of brunches to mothers in the D-M-V still dealing with isolation due to COVID. This is a repeat of the approximately 1200 Mother's Day meals Medium Rare delivered last year, which warmed moms' and grandmas' hearts by putting a festive brunch in their hands.
The Élite Collection is teaming with Medium Rare and its We Care, Inc./Feed the Fridge free meal program to generously sponsor the reunions and the meal deliveries. The Élite Collection offers boutique senior living accommodations, with properties in Fairfax and Alexandria, VA, and Rockville, MD, among other locations.
"The Élite Collection of senior living communities is built on the tenets of connection, hospitality and wellness – values that we believe align perfectly with Mark Bucher and his nonprofit efforts," said Jonathan Garber, executive director of The Seneca in Rockville, Maryland. "We are honored to be part of this incredible initiative to bring families together on Mother's Day and look forward to a continued relationship to serve those in need."
"We're proud that so many families make Medium Rare a part of their special occasions, whether it's get-togethers, birthdays, anniversaries or holidays," says Bucher. "Thanks to the Elite Collection, we're now able to put a lot of smiles on families' faces with this ultimate Mother's Day present."
Year-round Effort: 30,000 Free Meals Delivered Since Pandemic Started
Since the beginning of the pandemic, Medium Rare has been at the forefront of efforts to provide "meal security," delivering more than 30,000 free meals to seniors and others in need. It started with a Tweet in early March 2020, offering to provide steak dinners to those over 70 or unable to leave their homes--an effort that continues today. In addition to its Mother's Day effort last year, Medium Rare has delivered free meals during the pandemic for Thanksgiving, Christmas, and Passover, as well as stocking refrigerators in a variety of communities with restaurant-quality meals through the non-profit Feed the Fridge.
About We Care/Feed the Fridge
We Care, Inc., is a 501(c)(3) nonprofit organization helping to fund "Feed the Fridge," which provides daily meals to school children in and around Washington, D.C.
About the Elite Collection
The Élite Collection is a collaboration between two of the nation's most prolific senior housing experts. This collection of properties offers boutique senior living rooted in hospitality and integrated in wellness offering impeccable service, innovative care and pioneering programming following a mantra that focuses on renewal rather than retirement. For more information, please visit The-EliteCollection.com
About Medium Rare
Medium Rare is an award-winning, iconic, full-service restaurant brand serving the Washington, D.C., metro area since 2011.