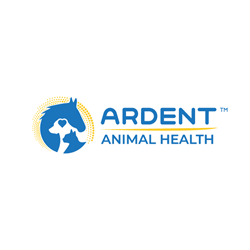 "The name 'Ardent' captures the spirit of our organization as a company with fiery passion for innovation guided by compassion for the well-being of animals."
LEXINGTON, Ky. (PRWEB) August 03, 2020
Introducing Ardent Animal Health – MediVet Biologics rebrands company and positions its platform of innovative products for transformative growth

Known as MediVet Biologics since its formation in 2016, the company is relaunching itself under the Ardent Animal Health brand.
The new Ardent Animal Health will build on its base of innovative therapies for osteoarthritis and cancer.
As the first company worldwide providing point-of-care regenerative cell therapy within veterinary clinics, Ardent Animal Health looks to accelerate growth and development of its pipeline.
MediVet Biologics is announcing a new name and a new look for its corporate brand as it relaunches itself as Ardent Animal Health.
In the years since its inception in 2016, the new Ardent Animal Health has developed into a global leader in the areas of veterinary regenerative medicine and oncology solutions for animals. The company's core mission is to develop affordable, innovative treatments for animal cancer and disease while supporting its veterinary partners in their efforts to make a positive impact on pet health.
"The name 'Ardent' captures the spirit of our organization as a company with fiery passion for innovation guided by compassion for the well-being of animals. The new brand translates the enormous and unique impact our veterinarian customers make each day in the lives of their patients. Our aim is to leverage our brand to accelerate connecting pet owners seeking advanced care to our expanding network of progressive veterinarian partners around the world," says Thomas Masterson, President of Ardent Animal Health.
Under its former brand of MediVet Biologics, Ardent Animal Health developed the first in-clinic adipose regenerative stem cell therapy kit, ActiStem Therapy. A major scientific advancement in animal regenerative medicine, the product offers an economic solution for owners of pets suffering from osteoarthritis, hip dysplasia, and ligament and cartilage injuries, as well as numerous mobility ailments. In addition to regenerative cells from fat, Ardent-certified hospitals offer other biologic treatments such as Platelet Rich Plasma, or PRP, a blood-derived treatment gaining popularity in human sports medicine.
Ardent Animal Health is unique for a company of its size, as it has surrounded its current and pipeline products with strong intellectual property and multiple collaborative university studies. This has allowed the company to grow, cementing its current technology, and look toward the future for its stem cell-based product pipeline candidates. Ardent Animal Health will launch with an extensive following of pet owners and veterinarians positively impacted by its products and services. The studies, passionate customers, and patient outcomes continue to provide momentum for the company's technology and products. Over 20,000 veterinary patients have received treatment of an Ardent Animal Health regenerative product or service.
Ardent Animal Health has also introduced cutting edge science to fight against canine cancer with its cancer vaccine service, K9- ACV, an immunotherapy vaccine generated from a canine patient's own cancerous tumor. K9-ACV is designed to stimulate the canine patient's immune response to attack the cancer. "We are looking to meet an unmet need in pet cancer, at the family veterinarian office when needed. 50% of dogs over the age of ten will develop some type of cancer, so there is a need for a broadly applicable approach that can improve lifespan at a reasonable cost. Our preliminary studies and extensive market research indicate this approach will provide access to pets that need it," Masterson said.
According to Mr. Masterson, the company's strength in these core innovative therapeutic areas will allow the organization to accelerate growth following its recent transition in both leadership and ownership. As a portfolio company of STUCK Fund 1, based in Milwaukee, WI, Ardent Animal Health will continue to develop novel approaches for early disease detection and treatments, with a focus on precision medicine for pets in need.
"We will continue to focus much of our strategy in creating novel products and services utilized in veterinary hospitals. We believe that this approach is key to the future of animal health. It is important not only for value creation but to ensure veterinarians have the ability to diagnose and treat their patients with the same leading-edge strategies underway in human health. Our animal family members deserve it."
Disclaimer
Experimental Cancer Vaccines created by Ardent Animal Health are provided under 9 CFR 103.3 via USDA Center for Veterinary Biologics oversight for use under supervision/prescription of a licensed veterinarian. Safety & efficacy have not been yet established.
About Ardent Animal Health
Since 2016 Ardent Animal Health based near Lexington, KY, has provided advanced medical strategies to veterinary hospitals around the world. Ardent provides regenerative medicine treatments such as ActiStem Therapy and PureVet PRP to veterinarians for pain and disease in companion and equine patients. Additionally, Ardent Animal Health is pursuing advanced strategies for detection and treatment of canine cancer. Through creation of its own intellectual property and strategic licensing partners, the company's portfolio includes current and future offerings aimed to raise the standard for animal healthcare.
http://www.ardentanimalhealth.com
About STUCK Fund 1
Ardent Animal Health represents an innovation-focused element of the STUCK Fund 1 portfolio, as Ardent competes in the fast-growing and recession-resistant pet health sector. STUCK Fund 1, based in Milwaukee, WI, was founded in 2014 to live out the lessons the investment firm's founders learned from growing its business into an international, $100 million organization. STUCK founders were honored with numerous accolades in their prior ventures, including the Muskego Manufacturing Business of the Year award and the Waukesha Business Alliance Manufacturing Business of the Year honor, among several others. Currently, the investment firm supports like-minded entrepreneurs to accelerate and sustain the growth of their businesses.
Media Contact:
Matt Yeich
(859)885-7111
matt@ardentanimalhealth.com