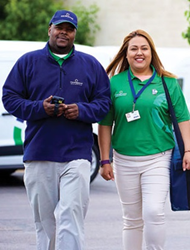 MedSpeed has job opportunities for displaced workers to earn income and make a difference amid the COVID-19 crisis
ELMHURST, Ill. (PRWEB) March 20, 2020
MedSpeed, the industry leader in healthcare intra-company logistics, announced that it is hiring Logistics Service Representatives, or LSRs—their term for drivers, in markets across the U.S. The company has openings for full-time and part-time (non-seasonal) medical couriers who are responsible for the daily pick-up and delivery of various medical items.
"The Coronavirus has been devastating to many," said Angie Gray, MedSpeed's chief human resources officer. "As many businesses in the service or hospitality industries have been forced to reduce operating hours or close altogether, the immediate impact has been on people's ability to support themselves and their loved ones. MedSpeed has job opportunities for displaced workers to earn income and make a difference amid the COVID-19 crisis."
MedSpeed offers competitive wages and benefits including medical, dental, vision, 401(k), life, and paid time off. Depending on the market, the company is hiring for 1st, 2nd and 3rd shifts, both full- and part-time. All applicants must be 21 or older and have a valid driver's license and clean driving record. The job requires frequent standing and the ability to lift and maneuver a minimum of 50 pounds.
"In light of COVID-19, MedSpeed has instituted even more stringent safety protocols," Gray noted. "We have been continuously monitoring and updating these procedures as necessary and will continue to do so for the safety of all MedSpeeders and their families and the employees of our healthcare partners."
To learn more about immediate opportunities, MedSpeed invites you to apply by clicking this link MedSpeed or visiting the Careers page on http://www.MedSpeed.com.
About MedSpeed
With 140+ locations in 29 states, MedSpeed is the market-leading organization in healthcare intra-company logistics. Since 2000, MedSpeed has partnered with healthcare organizations to transform same-day transportation (courier) from a cost center into a strategic intra-company logistics asset that delivers long-term returns. Using transportation to drive economic value in areas well beyond transportation itself, enables MedSpeed's customers to share equipment between facilities, reduce capital expenses and disintermediate the use of third-party shipping for the delivery of medical supplies to physician offices and clinics. Creating a strong, fully connected logistics network supports the centralization or outsourcing of other functions including redundant laboratories and fill pharmacies, print shop, mail, linen and more.