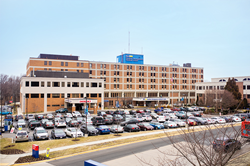 "We are energized and excited to celebrate this momentous anniversary. We are taking this opportunity to celebrate our patients, staff and the community—and reflect on our evolution of advancing healthcare," said Thomas J. Senker, FACHE, president of MedStar Montgomery Medical Center.
OLNEY, Md. (PRWEB) February 25, 2019
MedStar Montgomery Medical Center(MMMC) will celebrate its 100th anniversary commemorating its rich history and community partnerships. The year-long celebration will include a series of events and programming to show appreciation for all the employees, patients and community members who together have allowed MMMC to advance healthcare for a century.
MedStar Montgomery Medical Center began treating patients nearly a century ago, before construction was fully completed, to offer emergency treatment to patients impacted by a flu epidemic during a particularly harsh winter in Olney. Since then, the hospital has evolved and grown to provide innovative, patient-focused care, now serving tens of thousands of local residents annually across dozens of specialized programs, including women's health, oncology and orthopedics. As part of the MedStar Health system, our patients have access to resources and expertise from MedStar Health's hundreds of locations across the mid-Atlantic.
"We are energized and excited to celebrate this momentous anniversary. We are taking this opportunity to celebrate our patients, staff and the community—and reflect on our evolution of advancing healthcare," said Thomas J. Senker, FACHE, president of MedStar Montgomery Medical Center and senior vice president of MedStar Health. "Over the past century, MedStar Montgomery has had the privilege to serve multiple generations of families, employ hundreds of highly-skilled professionals, and support those organizations that make Olney a rich community. Today, we have the strength of the entire MedStar Health system behind us and we look forward to continuing to serve our community for another century."
Throughout 2019, MedStar Montgomery Medical Center will mark the 100th anniversary with a number of celebrations -- including employee appreciation activities, volunteer initiatives, community open houses and family-friendly events. Community members are encouraged to stay up-to-date with content, announcements and events related to the anniversary on Facebook at https://www.facebook.com/medstarmontgomery