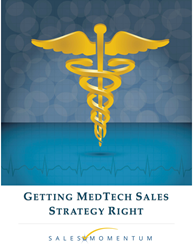 Today a MedTech sales force not only must sell a competitive advantage, they must be a competitive advantage – and that requires the ability to think and act strategically.
Scottsdale, AZ (PRWEB) March 27, 2014
MedTech sales professionals seeking to take their sales performance up a notch will get an expert helping hand as business development experts at Sales Momentum today publish a free white paper – Getting MedTech Sales Strategy Right. Packed with best practice insights from top performing MedTech salespeople and filled with the authors' experiences working with market-leading MedTech companies, Getting MedTech Sales Strategy Right is an indispensable strategic asset.
Based on more than a decade of structured observations of top MedTech sales performers, the lessons contained within Getting MedTech Sales Strategy Right are tried, tested and proven to achieve sales success.
All of the best practices can be put to use right away. There are no arcane and esoteric strategies and academic models, just practical ways to get the job done. It was created purposefully as a white paper that is short and easy to navigate. Only the key content is included with no fluff and no page fillers. The content is split into readable and independent topics, all laser focused and relevant to any MedTech salesperson as they craft their sales strategies.
Richard Ruff, Ph.D., co-founder of Sales Momentum, said, "While the MedTech industry is positioned to grow in the coming years, all is not rosy. The MedTech marketspace is changing rapidly and having a superior sales force is a key to sustaining a competitive advantage in MedTech accounts."
Getting MedTech Sales Strategy Right is divided into two chapters:
1. Formulating MedTech Sales Strategy – describes common pitfalls and shares best practices that increase the probability of MedTech sales success.
2. Executing MedTech Sales Strategy – highlights eight areas highly correlated with winning MedTech sales strategies: staying on track, networking, building and sustaining relationships, managing the competition, selling with clinical data, selling to the VAC, selling at the senior level, making the business case.
Janet Spirer, Ph.D., co-founder of Sales Momentum adds, "Shifting decision-makers, rising number of new influencers, pricing pressures, increasing consolidation, and consumerizing healthcare will require MedTech salespeople to redefine their sales strategies to continue growing the business. We wrote this white paper to help salespeople redefine those sales strategies."
To download the free white paper visit http://www.salesmomentum.com/getting-medtech-sales-strategy-right-free-white-paper/.
________________
About
Sales Momentum, LLC partners with companies engaged in major B2B sales to provide sales training experiences that make a difference. The company specializes in customized sales simulations and sales coaching initiatives.
For more than 30 years Richard Ruff and Janet Spirer have worked with the Fortune 1000 to craft sales training programs that make a difference. Richard and Janet co-authored Parlez-Vous Business, to help sales people have smart business conversations with customers and are co-founders of the Sales Training Connection blog. Richard co-authored Managing Major Account Sales and Getting Partnering Right.
Contact
Janet Spirer, Ph.D.
Principal, Sales Momentum
9280 E. Thompson Peak Parkway - Suite 36
Scottsdale, AZ 85255
Tel: 480-513-0900
jspirer(at)salesmomentum(dot)com
Web: http://www.salesmomentum.com
Web: http://www.salestrainingconnection.com