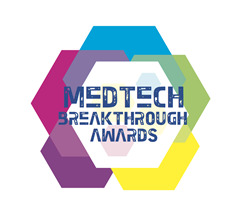 We are thrilled to honor the "breakthrough" digital health and medical technology innovators that are empowering the future of health systems in delivering care that is more effective, accessible, scalable, secure and equitable.
LOS ANGELES (PRWEB) May 08, 2022
MedTech Breakthrough, an independent market intelligence organization that recognizes the top companies, technologies and products in the global health and medical technology market, today announced the winners of the organization's sixth annual awards program, showcasing technologies and companies that drive innovation and exemplify the best in digital health and medical technology solutions across the globe.
The mission of the MedTech Breakthrough Awards is to honor excellence and recognize the innovation, hard work and success in a range of health and medical technology categories, including Telehealth, Clinical Administration, Patient Engagement, Electronic Health Records (EHR), Connected Healthcare, Medical Devices, Medical Data and many more. This year's program attracted more than 3,900 nominations from over 15 different countries throughout the world.
"As we move through the third year of the pandemic, healthcare systems and professionals around the world continue to face unprecedented challenges, from unrelenting staff workloads and shortages, to continued rise of chronic diseases and increasing healthcare costs," said James Johnson, managing director, MedTech Breakthrough. "Technology has proven crucial to keeping the healthcare industry resilient in the face of so many challenges, and we are thrilled to honor the "breakthrough" digital health and medical technology innovators that are empowering the future of health systems in delivering care that is more effective, accessible, scalable, secure and equitable. We extend our sincere congratulations to all of our 2022 MedTech Breakthrough Award winners."
All nominations were evaluated by an independent panel of experts within the digital health and medical technology industries, with the winning products and companies selected based on a variety of criteria, including most innovative and technologically advanced products and services.
The 2022 MedTech Breakthrough Award winners include:
Industry Leadership
Best MedTech Company CEO: Matt Mellot, Brightree
Best Overall MedTech Software: Oak Street Health
Best Overall MedTech Company: ViewRay
Best Overall Digital Health Company: Zelis
Digital Health Innovation Award: Teladoc Health
Healthcare Insurance Innovation Award: NantHealth
Best MedTech Startup: Greenphire
Medical Device Engineering Breakthrough: PocDoc
Clinical and Health Administration
Best Clinical Efficiency Solution: Veeva MedTech
Clinical Efficiency Innovation Award: LeanTaaS
Best Online Search and Scheduling Solution: Kyruus
Best Compliance Solution: RxMx
Best Clinical Administration Hardware Device: Honeywell, Honeywell CT30 XP Healthcare (HC) mobile computer
Best Computerized Decision Support Solution: DrFirst, MedHx Companion
Best Overall Health Informatics Solution: Vim
Best New Technology Solution – Healthcare Payment: Waystar
Best Overall Health Administration Software: Convey Health Solutions, Miramar
Health Administration Innovation Award: Nym Health
Patient Engagement
Best Patient Relationship Management Solution: Talkdesk, Talkdesk Healthcare Experience Cloud
Best Overall Patient Engagement Solution: CipherHealth Patient Engagement Platform
Best Patient Education Solution: Elsevier, PatientPass
Best Overall Patient Engagement Company: Quantum Health
Electronic Health Records
Best Practice Management Solution: Experity
EHR Innovation Award: DrChrono
Genomics
Best Overall Genomics Company: 2bPrecise
Best Overall Genomics Solution: Coriell Life Sciences, Corigen Medication Safety Program
Internet-of-Things (IoT) Healthcare
Best IoT Healthcare Platform: Abiomed, Impella Connect®
Best IoT Fitness Wearable: Withings ScanWatch
Best Biometric Sensor Solution: Medidata Sensor Cloud
Best Use of Artificial Intelligence in Healthcare: Eko
AI Innovation Award: Panalgo, Instant Health Data (IHD)
Best Overall Connected Healthcare Solution: Welldoc
Best Connected Health Platform: Validic
Medical Data
Best Health Information Exchange (HIE) Solution: LexisNexis Risk Solutions, LexisNexis® Gravitas™
Best Healthcare Big Data Platform: MDClone, MDClone ADAMS Platform
Best Healthcare Big Data Solution: Pareto Intelligence, Pareto Hub
Best Predictive Analytics Solution: Hospital IQ
Best Overall Healthcare Data Analytics Platform: Clarify Health
Healthcare Analytics Innovation Award: WellSky, WellSky CareInsights
Health and Fitness
Best Overall SleepTech Solution: Sleep Number 360® smart bed
Best Fitness Mobile App: Kaia Health
Best Healthcare Information Destination: Infermedica
Mobile Communications & Telehealth
Best Telehealth Platform: SmileDirectClub
Best Virtual Care Platform: Intellihealth
Best Virtual Clinic: Maven Clinic
Best Overall mHealth Solution: TimelyMD
Best Overall Telemedicine Platform: Hicuity Health
Best Overall Telehealth Solution: Bright.md
Best Overall mHealth Hardware Solution: Zebra Technologies TC52ax-HC mobile computer
Telehealth Innovation Award: Boingo Wireless
Medical Device
Best New Technology Solution – Imaging: MobileODT
Best New Technology Solution – Ultrasound: Butterfly Network
Best New Technology Solution – Diagnostic: BrainScope
Best New Technology Solution – Surgical: Lightpoint Medical, SENSEI®
Best New Technology Solution – Radiology: annalise.ai, Annalise Enterprise CXR
Best New Technology Solution – Cardiology: Abbott, Ultreon™ 1.0 Software
Best New Technology Solution – Biopsy: Helio Health, ECLIPSE™
Best New Technology Solution – Oncology: Accuray, Radixact® System with ClearRT™
Best New Technology Solution – Drug Development: Lunaphore, COMET
Best New Technology Solution – Ophthalmology: Lumenis, OptiLight
Best New Technology Solution – Dermatology: Castle Biosciences, DecisionDx®-Melanoma
Best New Technology Solution – Medication Management: Alto Pharmacy
Best New Technology Solution – Orthopedics: Ricoh USA, Inc., RICOH 3D for Healthcare
Medical Device Innovation Award: Medtronic, Hugo™ RAS system
Best Overall Medical Device Solution: Zimmer Biomet, Persona IQ
Best Overall Medical Device Company: GRAIL
Healthcare Cybersecurity
Best Healthcare Network Security Solution: CyberMDX, CyberMDX Healthcare Security Suite
Best Patient Data Security Solution: MedStack
Best Cloud Security Solution: ClearDATA
Best Overall Healthcare Cybersecurity Solution: Pondurance, Pondurance Managed Detection and Response (MDR)
Healthcare Cybersecurity Innovation Award: BridgeHead Software
Best Overall Healthcare Cybersecurity Company: Fortified Health Security
####
About MedTech Breakthrough
Part of Tech Breakthrough, a leading market intelligence and recognition platform for global technology innovation and leadership, the MedTech Breakthrough Awards program is an independent program devoted to honoring excellence in medical and health related technology companies, products, services and people. The MedTech Breakthrough Awards provide a platform for public recognition around the achievements of breakthrough health and medical companies and products in categories that include Patient Engagement, mHealth, Health & Fitness, Clinical Administration, Healthcare IoT, Medical Data, Healthcare Cybersecurity and more. For more information visit MedTechBreakthrough.com.