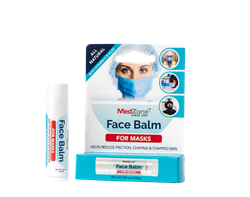 LENEXA, Kan. (PRWEB) October 06, 2020
MedZone, an industry leader in sports medicine, skincare, anti-chafe and hygiene products was one of the brands chosen for Walmart's seventh annual Open Call for small businesses. MedZone's Face Balm for Masks™ has been selected as one of the 175 U.S. manufactured small businesses to advance to the next stage in the process to land on store and club shelves. The opportunity can range from a handful of local stores to supplying hundreds of stores and Sam's Clubs as well as Walmart.com and Walmart Marketplace.
"Success at Walmart is something that most small businesses dream of. We are grateful for the positive feedback we received at the Open Call Event. Bringing Face Balm to people wearing masks is something our team is dedicated to. We are proud that our team could take feedback from a customer and turn it into a nationally known product that is helping people in these chaotic times."
More than 4,800 U.S small and medium-sized businesses representing 49 states applied for the opportunity to pitch a Walmart merchant, a 44% increase in submissions from last year. Of the 4,800 businesses, 850 received their official invitations to pitch their products and 175 of those businesses were chosen to move forward after a 30-minute virtual one-on-one zoom session. In addition to the pitch meetings, the one-day program included a series of breakout sessions designed to inform, empower, and encourage business owners of all sizes. Further information can be found here.
The chosen product, Face Balm, is the first all-natural solution to help reduce chafing, chapped skin and friction caused by wearing face masks. On the heels of the successful launch of their line of high-quality hand sanitizers, MedZone moved quickly to bring this much needed product to the market for first responders, teachers, industrial workers, medical professionals as well as every day consumers who are now wearing masks regularly. Given the increased need and requirements to wear face masks globally, this product is applicable to many market segments. Face Balm brings comfort to those who are wearing face masks.
Face Balm has captured national attention on The Today Show, in addition to various prestigious digital outlets. The product was quickly developed and brought to market following inquiries from customers regarding ways to prevent irritation or 'maskne' by using other MedZone anti-chafe products. The team took the customers feedback and used their years of expertise to create a gentle, easy-to-apply formula made with natural ingredients such as coconut oil, sweet almond oil, shea butter, aloe extract, avocado, jojoba and olive oil, making it great for all skin types. This entrepreneurial mindset and ability to act fast to market conditions is something MedZone has come to be known for in the industry.
MedZone has donated products to various hospitals around the country to help medical teams and first responders during this chaotic time. Plans are being made to contribute a portion of sales to charitable organizations, previously the company engaged in social responsibility programs for its hand sanitizer products. Face Balm is $11.97 (3 pack) and available at http://www.facebalm.com.
About MedZone
The mission of MedZone® is to make EveryBODY Feel Better. MedZone products work to prevent, treat and manage aches, pains, discomforts, wounds, hand hygiene and skin-chafing issues for individuals in sports, industrial settings and recreational activities. Our products were initially designed in 2001 based on requests from medical professionals, athletes and U.S. Military. Over the years the products have been adapted to work for athletes, active people, law enforcement, military and for certain healthcare needs. With the increase in market need for sanitizers and hand hygiene products, Medzone has created a new brand of products including hand sanitizing gel, hand sanitizing spray and foaming hand sanitizers in addition to Face Balm. Many of our formulations have been used for years by medical professionals. The Made in USA company is growing its Hygiene and Health Product category due to the increased need in the marketplace.
MedZone – http://www.medzonecorp.com
Face Balm – http://www.facebalm.com