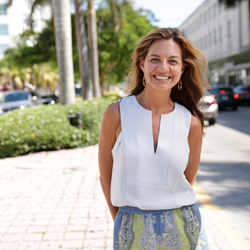 "It's inspiring when you can see someone of a similar background in a position of influence. If you are a little girl and you see a complex representation of different cultural backgrounds on-screen, it allows room for that possibility to exist in your life." - Maylen Dominguez
NEW YORK (PRWEB) October 11, 2018
Earlier this year, the New York Film Academy (NYFA) welcomed Maylen Dominguez as the new Campus Director of the South Beach location. Dominguez previously served as Chair of Filmmaking at NYFA South Beach, and has continued in that capacity in addition to her new role. A longtime film industry veteran, Maylen is bringing a unique perspective to an industry that critically needs it.
Puerto Rican-born Maylen explains, "It's inspiring when you can see someone of a similar background in a position of influence." She adds, "If you are a little girl and you see a complex representation of different cultural backgrounds on-screen, it allows room for that possibility to exist in your life." Maylen was instrumental in organizing a Women's History Month Industry Panel at NYFA South Beach, which featured a diverse range of industry professionals -- all women -- who discussed the perils and advantages of being a woman in the film industry.
Maylen Dominguez holds a Master of Fine Arts degree in Writing for Screen and Television from the University of Southern California, as well as a Bachelor of Arts degree in Literature and Film from Yale University. She is one of the five original founders of the Orlando Film Festival, and is a member of the Advisory Board of the Florida Film Festival. She has produced the web series No Good Deeds and directed the documentary The Love Store as well as a number of short films. She won the Zaki Gordon Award for Excellence in Screenwriting. Her screenplay Altar Boy is in the process of being produced.
After beginning her career in Beverly Hills, she worked for Galan Entertainment, which produces content for Latin American television and films such as The ALMA Awards, Los Beltran, and Padre Alberto. Maylen then joined Minnie Driver (Good Will Hunting, Grosse Pointe Blank) and her production company, Two Drivers Production, as Director of Development, where she had the opportunity to develop film projects and work on the production sets of Return To Me, Beautiful, and Slow Burn. She previously served as Program Director for over five years at another institution of higher learning.
Maylen has been at the New York Film Academy for over three years, all in South Beach. Explaining why the city has always felt like home to her, Maylen comments, "I have a very special connection to Miami, this is the place where my father landed when he was 12 years old and exiled from Cuba. It's the place where my grandfather in his mid-50s studied for his medical license and became a doctor again."
NYFA Senior Executive Vice President David Klein remarks, "We are so thrilled to have Ms. Dominguez in the position of Campus Director for our Florida location." He continues, "Her diverse background in the entertainment industry, her significant experience in the education sector, and her connection to the Miami community -- all together -- make her an ideal leader for our students, staff, and faculty in Miami."
Read a full interview with the Maylen Dominguez, Campus Director of South Beach, here.
About New York Film Academy
The New York Film Academy is a leading visual and performing arts school that offers courses across 15 areas of study in New York City, Los Angeles, South Beach/Miami, Gold Coast (Australia), Florence (Italy), and more. Thousands of aspiring artists come to study at the New York Film Academy each year from over 120 countries. For more information, please visit nyfa.edu.