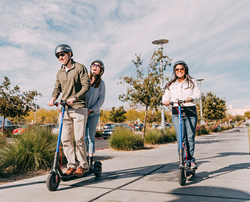 BOGO is the only electric scooter designed to accommodate two riders.
SAN JOSE, Calif. (PRWEB) July 02, 2019
Ever wanted to ride one of those electric scooters but didn't think you could? Well now BOGO makes it possible.
BOGO, (Buy One Get One) as the name implies is the newest and only micro-mobility electric scooter startup offering a two-person scooter. BOGOs patented designs offer a second handlebar on the scooter allowing a second rider to safely ride on the back, making the BOGO scooter suitable for adults or younger riders who may not possess a drivers license.
Co-Founder Allegra Steinberg says "The idea resulted from seeing several injuries and accidents caused by two people riding together on a standard single rider electric scooter with only one handlebar." Having two people ride together on a single scooter with only one handlebar changes the balancing and weight distribution of the riders making it extremely dangerous. Additionally, younger riders who do not possess a drivers license or are unable to ride a scooter on their own, can now enjoy being driven on the back of a BOGO scooter.
The scooters are designed, manufactured and tested in-house at the company's 2-acre facility in Las Vegas, NV, and are built to the highest standards. The company also plans on opening several satellite offices in San Francisco, Phoenix and Los Angeles.
BOGO scooters are much more efficient than other scooters on the market. The larger platform allows for a larger battery, resulting in a much longer battery life and less frequent charging.
The scooters are rented by scanning a QR code using an iPhone or Android app. Priced at just $1 to start and .15 cents per minute thereafter, BOGO two-rider scooter is half the price of other electric scooters when rented for two people.
Starting next week, both BOGOs single and double rider scooters, will be available in several cities throughout Arizona and California. BOGO will expand to most other major US cities by the end of the year.
The company is also seeking partnerships to license its technology and scooters in other countries including Canada, Mexico, Europe and Israel.
The BOGO two-person scooter is one of several new products the company plans to unveil this year.
The company is currently hiring for several positions, including software engineers and chargers.
Thomas Walker – Director of Business Development says "This is an exciting time for us as BOGO is transforming the micro-mobility landscape."
You can meet with BOGO who will exhibit its revolutionary two-person electric scooter on July 10 at TechCrunch Sessions: Mobility in San Jose #TCMOBILITY.
For more information or to request service for your city or campus, visit their website at http://www.bogo.us
Contact:
press(at)bogo.us