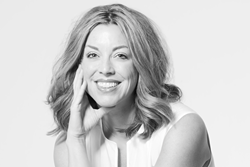 "A truly respectful workplace where everyone has each other's back is a safer, healthier place to be."
MONTGOMERY, Texas (PRWEB) November 05, 2018
Candace Carnahan is a global innovator for enhancing safety cultures within organizations. Her boundless, contagious energy and passion for eliminating preventable workplace injuries evolved from a shocking, preventable workplace incident that cost Carnahan, at 21, her lower left leg. She shares her beliefs through a life-changing concept: Have the "Courage to Care" enough about standing up for others to act: "If You See Something, Say Something."
Called one of the "Faces of the Future" by MacLean's, the Canadian news magazine, Carnahan uses her authentic life lessons of triumph over tragedy to motivate people to break down impediments that hinder their productivity. She advocates adapting attitudes and behaviors that advance success and self-actualization at levels both personal and professional.
In overcoming a situation that could have thrown her into a lifelong paralysis, Carnahan's determination saw her through learning to walk with an artificial limb, then chronicling what she had learned while backpacking the world. She gained perspective experiencing many diverse cultures. She's known as the "Prophetess of Safety," sharing her message for workers and safer working conditions globally with more than 300,000 people and counting
Carnahan is a keynote speaker for the 2019 Global TapRooT® Summit at La Torretta Lake Resort & Spa in Houston (Montgomery), Texas, on March 13 – 15, 2019. Join TapRooT® for the Summit's incredible lineup of speakers and leaders. Learn more about them on the Summit website. Register here.
About System Improvements Inc. – TapRooT®
Founded in 1988, TapRooT® solves hurdles every investigator faces. TapRooT® root cause analysis takes an investigator beyond his or her knowledge to think outside the box. Backed with extensive research in human performance, incident investigation, and root cause analysis, TapRooT® is a global leader in improved investigation effectiveness and productivity, stopping finger-pointing and blame, improving equipment reliability, and fixing operating problems.