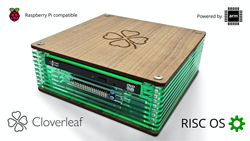 Alternative open source operating system...
DEUTSCH, Germany (PRWEB) November 20, 2020
On November 17th, 2020 Cloverleaf announced a Kickstarter crowdfunding campaign to upgrade and revive the unique computer operating system RISC OS in order to bring to market an exciting alternative computing platform.
Cloverleaf RISC OS seeks to become independent from Microsoft, Apple and Google. The company's mission is rooted in the belief that consumers deserve more choice in computer systems. Users are currently limited to a tiny handful of choices of operating system—an inadequacy Cloverleaf is set to address.
Cloverleaf aims for RISC OS to be known around the world. When a user sets out to choose a new computing device, more choices should be available. The company wants to offer an option beyond the monolithic faces of Microsoft, Apple and Google, thus igniting their campaign for funding.
RISC OS has many outstanding qualities that improve user experience. Originally released by Acorn Computers in 1988, RISC OS is designed to run on specialized ARM processors that are extremely power efficient, which is why they can be found in 90% of all mobile phones (including all the leading brands: Apple, Samsung and Huawei). With these power-efficient processors, RISC OS can be used to provide a high-capability but low-energy operating systems (using just 5 to 15 W). Cloverleaf RISC OS is the best choice to reduce your carbon footprint.
"RISC OS was built right at the beginning of the Internet's success story," says Stefan Fröhling, the founder of Cloverleaf. "Therefore, many Internet software technologies are currently absent from RISC OS and need to be upgraded or implemented."
Cloverleaf believes that, with these upgrades, the RISC OS operating system's many outstanding qualities can work to benefit users. PC lovers can expect to enjoy faster speeds, a flexible development environment and energy-conserving processor technology.
The RISC OS operating system is modular and designed to save resources, and it doesn't use up gigabytes of hard drive space. Cloverleaf RISC OS can run for years without the need for reinstallation, and does not hinder computer performance. RISC OS does not force upgrades of computer hardware or software to new versions, and future upgrades can be installed in a non-destructive fashion, in a way that will not make users' current software stop working.
"Progress has been made thanks to other supporters of RISC OS, but there is still a lot to do," says Mr. Fröhling. "To speed up these upgrades and implementations, we need your support to give you another choice of operating system for desktop and mobile computing devices."
With a robust and effective processor, efficient energy-saving technology to combine high performance with extremely low power consumption and ultra-fast processing speeds, the Cloverleaf operating system, built on the powerful RISC OS framework, is the ultimate tool for tinkerers, makers and programming ninjas.
You can support Cloverleaf's mission to revive RISC OS with a tip, a purchase of a whole computer system including RISC OS, or by donating to their crowdfunding campaign.
You can also join the VIP Facebook group to learn more.