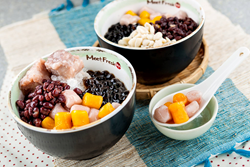 NEW TAIPEI CITY, Taiwan (PRWEB) September 22, 2019
Contact:
Andre Hsu
Marketing Manager
andrehsu@easyway-group.com
626.723.4924
Meet Fresh, a global dessert and tea shop, celebrates its 12th anniversary with a fresh promotion. From September 20th to October 6th, locations across the nation are giving daily discounts for their signature desserts and teas as well as limited edition merchandise, but Taiwanese dessert lovers looking for exclusives will have to visit participating stores soon as quantities are limited.
Limited Edition Giveaway
September 20th – September 29th
Order a $5.00 drink to go and get a limited edition cup sleeve
September 30th to October 6th
Spend $25 or more and get a smart phone car mount.*
Daily Dessert Discounts:
September 20th – September 29th
20% off Icy Taro #4
September 30th to October 6th
20% off Milk Tea with Grass Jelly
Aside from classics like milk tea with boba, Meet Fresh makes its mark on the Asian dessert trend sweeping the U.S. by crafting every dessert with 100% natural ingredients. For instance, the signature Pudding & Q Mochi shaved ice is made with almond and caramel pudding, ice cream, mini taro balls, jelly noodle, Q mochi and condensed milk. Each ingredient comes from certified suppliers who pass the Meet Fresh standard of fresh, natural ingredients.
Pudding & Q Mochi shaved Ice. The ingredients include almond pudding, caramel pudding, mini taro balls, jelly noodle, Q mochi, ice cream, and condensed milk.
You won't find preservatives in any of its 800 international locations, only fresh ingredients like seasonal fruit, elevated by traditional Taiwanese technique. Many of the recipes originated in the childhood kitchen of Brother and Sister Fu. Since then, they've evolved their comforting flavors of home into Meet Fresh. By focusing on customer service, quality, and authentic flavors, their recipes are still comforting customers over a decade later.
"When people think about comfort food, they feel warm and imagine hearty foods," says CEO Mr. Johnson Fu, "we give the same feeling of comfort through sweet, refreshing and cool. Whatever brings you joy."
After its first U.S. location opened in Irvine, California, the Meet Fresh approach continued to grow to Seattle, Las Vegas, New York and many more locations across the nation. Its southern California roots will grow even stronger as plans for a West LA location near UCLA are in the works.
For more details about the promotion, visit https://www.facebook.com/MeetFreshUSA/posts/2357117907871476
*Phone car mount will only be available at Arcadia, Cerritos, Cupertino, Fremont, Hacienda Heights, Irvine, and Temple City locations.