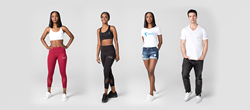 We all have a story, something that has shaped us, strengthened us, and given us fresh perspective, whether positive or negative - Dani Flemming
NEW YORK (PRWEB) August 24, 2020
CEO & Founder Dani Flemming is launching her new apparel line IME featuring athleisure and casual wear for both men and women. Her brand goes beyond comfort and style, though. Each product is inspired by someone's unique story of perseverance and victory; a portion of the sales will be donated to a good cause. IME's first donation will be given to the St.Jude Children's Research Hospital.
Dani's mission in designing her clothing line is simple: to lift others up. Her vision reaches beyond clothing and sales, it's a community. She hopes that the community she creates with her brand will be inspired to share their stories of empowerment to spark a cycle of hope.
"We all have a story, something that has shaped us, strengthened us, and given us fresh perspective, whether positive or negative. I believe that when we share these stories—these life-changing, world-shaking, powerful stories—we all inspire and empower each other. It's truly contagious."
When it comes to IME clothing, quality and comfort are Dani's top priorities—along with aesthetics, of course. "They have to be fabulous and functional!" The tee-shirts and leggings are among the softest and coziest around, perfect for lounging on a Saturday afternoon, running errands, or a sweaty morning workout.
IME can be found on Instagram as @wear.ime. It's the perfect space to discover your new favorite leggings, but also to connect with Dani's growing community, feel uplifted, and be inspired. In fact, that's what IME means: Inspire Me. So, go ahead, tell us! What's your story?
More Information:
http://www.wearime.com
http://www.facebook.com/wearime
http://www.instagram.com/wear.ime
Contact:
Sandeep Galketiya
(212) 668-0557
press@verveconcepts.com
http://www.verveconcepts.com
SOURCE: WEARIME