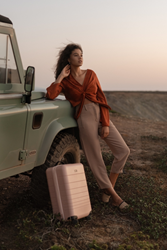 We're avid travellers ourselves. When we looked around for reasonably priced luggage that aligned with our design sensibilities and didn't cut corners on materials and parts, we couldn't find any.
VANCOUVER, British Columbia (PRWEB) October 30, 2018
Monos – an independent Canadian studio creating beautifully designed, accessibly priced, exceptionally high quality luggage – announced the official pre-launch of its Kickstarter campaign today.
The studio was founded to give discerning travellers what the market is sorely lacking – premium, minimalist luggage without superfluous gimmicks, built with only the best materials and components – all at a fair price.
"We're avid travellers ourselves," said Victor Tam, CMO and Founder. "When we looked around for reasonably priced luggage that aligned with our design sensibilities and didn't cut corners on materials and parts, we couldn't find any. We didn't want to compromise on anything, so we got to work on making luggage we'd actually want to buy."
By cutting out the middlemen and selling directly to customers, the studio is able to offer high-end luggage at honest prices, without the exorbitant markups found at traditional luggage retailers.
With a design-focused approach and a rigorous attention to detail, Monos is challenging the notions of what a premium suitcase should be (and should cost), as well as defying the recent trend of flashy, bloated luggage packed with gimmicky features of questionable utility. While other companies all rush to build power banks into their luggage – which, let's face it, most people already carry separately – the studio decided to focus their efforts on making a top quality suitcase that excels at being a suitcase.
"We didn't see the need for our luggage to have GPS tracking or transform into a moped. We chose to double down on the design and the quality – the stuff that really matters, " said Daniel Shin, Managing Director and Founder.
Drawing inspiration from the Japanese wabi-sabi aesthetic as well as the visual rhythms of natural phenomena like sunsets and rippling water, the studio's luggage design is at once striking and understated in its minimalist distillation of form.
It cuts no corners in function either, with exactingly crafted details and thoughtful features.
All the Monos suitcases boast a sleek and sturdy telescopic handle befitting of the luggage's premium status. The custom telescopic tubes are made of high-grade aluminum, and are set at an angle to reduce lateral motion and wobbling, standing in stark contrast to the flimsy, low-quality handles of other similarly priced luggage. A cleverly hidden release button keeps the handle's appearance clean, while also making it more natural to use.
The luggage case is made of ultra-light, aerospace-grade Makrolon polycarbonate, sourced from Germany. In addition to being light in weight (the Carry-On, Carry-On Plus, and Check-In weigh only 6.9 lb, 7.1 lb, and 10 lb, respectively), the polycarbonate shell is remarkably durable and impact-resistant – a far cry from the usual ABS plastic found in most hard shell suitcases. Even the roughest luggage handler literally won't make a dent – polycarbonate is near impossible to break, and it easily bounces back into its original shape. The polycarbonate is finished with a powder coating to add extra durability and to give the case its handsome, matte appearance.
In addition to being light and strong, Monos luggage is also silent. Outfitted with Hinomoto Lisof Silent Run 360° wheels (typically found only in much more expensive suitcases), the luggage is whisper-quiet. And sparing no detail, the studio also sourced colour-coordinated YKK reverse coil zippers, chosen as much for their sleek appearance as their unrivalled reliability. The interior is lined in a luxuriously soft, anti-microbial fabric with subtle pattern detailing.
The complete collection of Monos luggage will be available in three sizes: Carry-On (22" x 14" x 9"), Bigger Carry-On (23" x 15" x 9.5"), and Check-In (30" x 21" x 13.7"), starting at an early backer price of $150 for the Carry-On. Early backers will be able to get over 40% off all models when the Monos Kickstarter campaign officially launches on November 13, 2018.
See more at monos.com/kickstarter