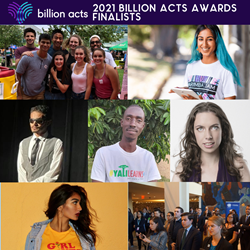 "Don't wait for a Gandhi, Don't wait for a King, Don't wait for a Mandela. You are your own Mandela, you are your own Gandhi, you are your own King." -Leymah Gbowee, 2011 Nobel Peace Laureate from Liberia
DENVER (PRWEB) November 23, 2021
The 2021 Billion Acts Finalists are certainly not waiting for anyone else to change the world for them. Their work spans a wide range of issue-areas and geographic locations, and each of these finalists has found a unique and powerful way to turn their passion into action and communities into coalitions. These youth leaders are moving the needle on issue-areas of conflict resolution, alleviating poverty, advancing women as leaders, disarmament, and global health and wellness. They are building cultures of peace in conflict affected areas, transforming weapons into commodities of peace, uplifting women leaders, furthering disability rights worldwide, advocating for survivors of armed conflict, and creating sustainable food systems. Each finalist dedicated themselves to solving a pressing problem in one of the 10 Billion Acts Issue Areas deemed the most important to creating and sustaining peace. Their projects were chosen from the over 10 Million Acts of Peace submitted to http://billionacts.org in 2021 and the finalists work in Sweden, Yemen, South Africa, South Sudan, El Salvador, and the United States. These Nobel Peace Laureates in training are the future leaders that our world so desperately needs! Add your support to help each finalist win a mini grant, before December 12th, and join us on December 16th on Billion Acts Facebook Live to celebrate their work.
Meet the 2021 Billion Acts Awards Finalists:
The Chaeli Campaign, Founded by Chaeli Mycroft
Humanium Metal, Founded by IM Swedish Development Partner
Deja Foxx, Human Rights Activist
Saleem Al-Harazi, Disabled Rights Advocate
Marimba Jam, Founded by Kiara Ramklass
Bullets to Books, Founded by Jok Abraham Thon and the Jüdische Kulturbund Project
Detroit Feedback Loop, Founded by Nicholas Ang and Camilla Cascardo
About: The Billion Acts Campaign, an initiative of PeaceJam Foundation is led by 14 Nobel Peace Laureates, including The Dalai Lama, Desmond Tutu, Rigoberta Menchu and other Nobel Peace Prize winners who have worked with the PeaceJam organization for 25 years to mentor over over 1.3 million youth worldwide. The Billion Acts Campaign invites peacemakers and community builders of all ages, backgrounds, causes, and countries to address the problems in their own community and to come together to create creative solutions to issues big and small. The Campaign has inspired over 90 million Acts of Peace in 171 Countries, and PeaceJam has been nominated for the Nobel Peace Prize eight times for its power to transform the lives of our youth.
Learn more at https://billionacts.org & https://peacejam.org. Media contact: Brandi Brown at brandi@peacejam.org