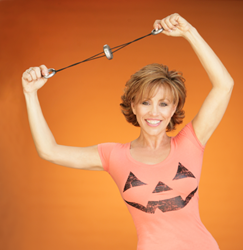 True authentic power is more than how you look... or how much money you have... but when YOU can serve the energy of your soul!
ST. PETERSBURG, Fla. (PRWEB) October 19, 2018
In an age where women are truly rising to power and choosing not to play small; TV Celebrity, Motivational Speaker and Best Selling Author, Forbes Riley, truly shines as a role model and a powerhouse to watch. Tonight in St Petersburg, Florida at the acclaimed Estate located downtown, Forbes along with 7 other outstanding women will be honored as Tampa Bay's Most Powerful Women 2018.
The coordinator behind this "Celebration of Women", Andreas Malissovas, is an Entrepreneur and Owner of Events & Adventures Inc. He stated, "When we announced that we were looking for Tampa Bay's Most Powerful Women, Forbes Riley's name was nominated by several different people. It's exciting to see the impact she has had on so many in our area and a joy to celebrate not only her achievements in the media, on tv and in print, but also in the community. Tonight we honor and glorify women who make a difference AND even more important, we shine the spotlight to help raise funds and awareness for tremendous contribution the St. Petersburg Free Clinic brings to so many in need."
Before Forbes Riley became a media sensation for empowering people and sharing "Forbes Factor Live" across the globe, she had her share of obstacles to overcome. From being overweight with frizzy hair, buck teeth and a misshapen nose, which led to feeling alone and bullied in school, to having her dad spend 3 years in the hospital to overcome a horrific accident in the workplace, to losing a young boy she helped raise for 12 years, to a tragic gang murder. Her story is truly one of overcoming obstacles and discovering "life happens for you, not to you." Fast forward a few years and she is raising boy/girl teenage twins who attend St. Petersburg High School, is a best selling author, the Creator and CEO of the global fitness phenomenon, SpinGym and via home shopping and tv infomercials, has grossed more than $2.5 Billion in product sales.
Her mission of inclusion and promoting greatness in others has led her to build Forbes Riley Studios flagship, state of the art, tv production studio, in St Petersburg; a hub for seminars, trainings as well as major feature films, commercial shoots and even national tv talk show, Forbes Living seen on Oxygen.
TV Fitness Star, Debbie Seibers says, "I can't say enough of the passionate powerhouse, Forbes Riley!! I first met her on the set of an Infomercial she was hosting. I was the fitness talent working with her and she inspired me to be a host, a fitness expert and has been inspiring me ever since. She is definitely one of the best motivational speakers you will ever witness:) So proud of her!!!
Tonight's award and "The Celebration of Women" is a glorious gala with an eye towards fundraising and charity while contributing back to the community. Truly showing that when you "Give more than you GET, you get more than you could ever imagine!
About Forbes Riley:
Forbes Riley, recently named America's Most Loved Female Motivational Speaker, continues her passion to inspire people and create entrepreneurs that have success in a holistic and fulfilling manner — health, wealth and happiness is a motto she preaches and lives.
Forbes is a regular presence on televisions worldwide as a product spokesperson and television host--appearing on such networks as ESPN, TLC, Fit-TV, Animal Planet, ABC Family, Home Shopping Network, QVC, HSN and has been profiled by Forbes Magazine, Huffington Post, Fox News and more. As an actress, Forbes has appeared in numerous feature films, television shows and live on Broadway. She's a recurring correspondent on Hallmark's Home and Family, NBC's The Doctors and a wide variety of news and daytime talk shows.
Having grossed more than $2.5 Billion dollars in product sales worldwide, Forbes can be seen regularly alongside such celebrities as Mary J. Blige, Tori Spelling, Martha Stewart, Kelly Ripa, Wolfgang Puck, and Susan Lucci, Joy Mangano, Curtis Stone, and Tony Little on HSN promoting her unique brand of lifestyle products including the Award Winning SpinGym. Forbes has built her success on establishing trust with her audience and creating products that are portable, affordable and produce dynamic results.
Her flagship fitness product SpinGym is used in offices and gyms worldwide and it's one of the only fitness products that afford those sitting in a wheelchair, a heart pumping, powerful cardio workout.
About Forbes Riley Studios:
Forbes Riley's dedication to providing unique solutions and innovative products extends beyond her own products and she owns a multi-media production studio located in St Petersburg, Florida, which is used to shoot productions, host masterminds, conduct media coaching and bring people together. She also hosts a weekly live radio show ForbesFactorLive.com and serves as a Motivational Keynote Speaker around the globe. Forbes offers an exclusive one-on-one coaching to get people to achieve their next level of success in health, wealth and happiness. For seminar details visit http://www.forbesfactorlive.com or for booking info or to schedule an interview: contact her media team 509-429-2549.
Forbes states how proud she is to be involved and support St. Petersburg FREE Clinic, and Beth Houghton, executive director.
About Beth Houghton:
Equipped as a CPA, attorney, and MBA, this local powerhouse has chosen to spend the last six years leading one of the largest non-profit organizations in Tampa Bay. Houghton has not only revolutionized the Free Clinic's services, but worked to expand its reach to the nearly 50% of the county's population struggling to make ends meet. As leaders in one of St. Pete's best non-profits (St Pete's Free Clinic), Beth along with her husband, Scott Wagman are truly on a mission.
"The men and women in our residential programs – not all, but a significant number come in after having dealt with the first 30 days of treatment for drug or alcohol issues, and so then they come to us to try to find a new normal, and we try to help them find that new normal to work, to learn how to enjoy life without drugs or alcohol, and to remake their lives in whatever way they need to."
for more information contact: https://stpetersburgfreeclinic.org