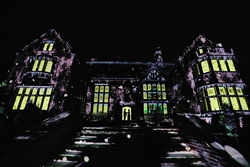 Mansion owners are now turning more and more to 3D mapping to bring the spotlight on their property. Nothing is too extravagant.
LOS ANGELES (PRWEB) August 14, 2018
Once reserved for high-end events and concerts, 3D projection mapping is quickly becoming the da facto lighting technique for high-end mansions. And LA-based mapping designer Philippe Bergeron is riding the wave.
Bergeron and his firm Paintscaping will present "LightNights", the story of the co-founder of Goodyear Tire, FA Seiberling, for the second year in a row at Stan Hywet Hall & Gardens, a mega-mansion of 64,000 sq ft, in Akron, Ohio.
The guests will embark on a journey thru magic and drama. From the building of the house, to its opening day on Christmas, to Seiberling getting fired from Goodyear.
For those not familiar with 3D mapping, it is the art of projecting images on buildings and landscape, in alignment with the architectural features. A merging of real and virtual, if you will.
"Mansion owners are now turning more and more to 3D mapping to bring the spotlight on their property," notes Bergeron, President of PaintScaping, "nothing is too extravagant."
Case in point. PaintScaping has mapped maybe the most famous – or infamous? – estate in the world. The Playboy Mansion. "We mapped a number of different locations on the property, including the tunnel that leads to the legendary grotto," continues Bergeron.
But PaintScaping's work is not limited to estates. Their work in the music video "This is what you came for," by Calvin Harris featuring Rihanna, gathered over 2 billion views on YouTube, making it the most viewed mapping ever.
And Bergeron's company has mapped a number of high-end hotels and resorts. The Ritz-Carlton Kapalua in Hawaii, The Westin Kierland in Scottsdale, The Madeline in Telluride, the Terranea Resort in LA, and The Venetian in Las Vegas, to name a few. Especially during the holidays.
"3D mapping is the perfect tool to tell old stories in a new way and make people believe in magic again," concludes Bergeron with a smile.
WHEN: August 16 to September 16, 2018 – select nights. 7pm to 10pm. August 16, 17, 19, 23, 24, 26, 30, 31 and September 2, 6, 7, 9, 13, 14, 16
WHERE: Stan Hywet Hall & Gardens, 714 N. Portage Path, Akron, OH 44303, Akron, Ohio. 330-836-5533
WHAT: A cool 3D mapping about the culture and history of FA Seiberling, co-founder of the Goodyear Tire Company.
HOW MUCH: Tickets are $18 adults, $9 youth (6-17). Stan Hywet members: $14 adults, $7 youth (6-17). Children 5 & under are free.
To see more of PaintScaping 3D Projection Design projects, visit http://www.paintscaping.com
For more information on Stan Hywet's mapping, please visit http://www.StanHywet.org.
About PaintScaping
PaintScaping is the industry leader in 3D mapping. The Los Angeles-based company has produced unique 3D mapping shows across the U.S. including Orlando, Los Angeles, Las Vegas, New York and Chicago, and many places around the world. Among its many clients are MGM Resorts, Ritz-Carlton, Sony Pictures, Westin Hotels, Caruso Affiliated, and Cirque du Soleil.
About Stan Hywet Hall and Gardens
Stan Hywet Hall & Gardens (70 acres) is a notable country estate, with gardens, located at 714 North Portage Path in Akron, Ohio. It is one of the largest homes in the United States.[3] A National Historic Landmark, it is nationally significant as the home of F. A. Seiberling, founder of the Goodyear Tire and Rubber Company.[4]
About Philippe Bergeron
Philippe Bergeron is founder and CEO of PaintScaping, a global leader in 3D projection mapping. PaintScaping has done mapping in the USA, Mexico, Canada, France, Ireland, and South Africa. Bergeron, a native of Montreal with a B.S. and M.S. degree in computer science from the University of Montreal, remains a 3D mapping innovator and invited presenter for numerous industry events.
Philippe Bergeron is available for interviews.
Photos available here: https://bit.ly/2B8PHWb
More photos and video are also available upon request.
Media Contact:
[Isabel Drean]: +310 988 9763 or marketing@paintscaping.com