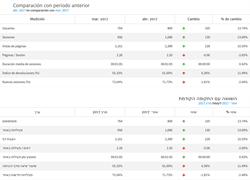 In Megalytic, you can now create a single template and use it to create reports in multiple different languages.
New York, NY (PRWEB) May 09, 2017
Megalytic, the leader in report automation for digital marketers, announced today that their product now publishes digital marketing reports in 10 languages. Responding to customer demand around the world, Megalytic now provides translations of chart titles, column headings, axis labeling, date ranges, metric names, etc. The following languages are supported, with more to be added in the near future.

Arabic
Dutch
English
French
German
Hebrew
Italian
Portuguese
Spanish
Romanian
Megalytic users can set a default language for their reporting and override that default for individual reports. For example, a multi-national based in the UK can set their reports for English by default, but still publish reports for their European subsidiaries in German, French, Spanish, or Italian. Users can even create a report in one language (e.g., English), and publish in another (e.g., Arabic).
Users also have the ability to override individual translations within a report. For example, in Italian, Megalytic translates "Bounce Rate" as "Frequenza di rimbalzo," but if a report author prefers to use the English term in a particular chart or table, they can override the translation and manually enter "Bounce Rate" in one place, while the rest of the report remains in Italian.
"Megalytic reports connect marketers with their audience. In order to reach that audience most effectively, we need to communicate in their preferred language," said Mark Hansen, CEO of Megalytic. "We have customers all over the world who have been asking for multiple languages. Digital Agencies in Europe want to send their clients in Amsterdam reports in Dutch, their clients in Berlin need reports in German, and their clients in Paris prefer French reports."
In Megalytic, you can now create a single template and use it to create reports in multiple different languages.
For those interested in learning more, Megalytic offers a free 14-day trial and multiple payment plans to fit various needs and budgets.
About Megalytic
Founded in 2011 by its CEO, Mark Hansen, Megalytic's analytics reporting software helps thousands of digital marketing professionals throughout the world create engaging reports that deliver the right data, to the right people for more informed decision-making. Its highly customizable features allow users to build professional reports for a variety of audiences. To learn more, visit the Megalytic website or check out its blog covering an assortment of analytics topics.