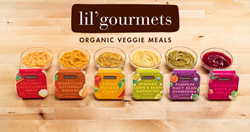 "We are excited to launch lil'gourmets veggie meals and look forward to adding their unique global recipes to our assortment." - Meijer Buyer Matt Campbell
CHICAGO (PRWEB) June 22, 2020
Expanding its reach across six states in the Midwest, lil'gourmets is delighted to announce that Michigan-based retailer, Meijer, will now be offering lil'gourmets veggie meals in retail locations as well as Meijer.com.
Founded by two former Kraft Food executives and first-time moms, lil'gourmets was created to cultivate curiosity in lil'ones by exposing them to nourishing, veggie-focused, global cuisines at a young age to help them fall in love with vegetables and diverse, culturally-rich foods for life. As the first and only fresh, organic veggie meal, lil'gourmets' global recipes feature veggies and beans combined with nutritious ingredients like coconut milk and extra virgin olive oil with chef-crafted spice blends to create uniquely delicious homemade meals.
lil'gourmets and Meijer, creating a one-stop shop in the baby aisle
Shoppers will now be able to find lil'gourmets products in coolers located in the baby aisle, near other baby essentials, at select Meijer locations.
"Our investment in coolers in the baby aisle further enhances our commitment at Meijer to customer service by creating a complete and convenient assortment for families with young children," Meijer Buyer Matt Campbell said. "We are excited to launch lil'gourmets veggie meals and look forward to adding their unique global recipes to our assortment."
"We are thrilled to partner with Meijer as they roll out their consumer-centric approach to launching fresh food in the baby aisle," says lil'gourmets CMO Becky Graham. "By offering the latest fresh food options next to other essentials, parents and caregivers can enjoy a one-stop shopping experience."
Cultivating curiosity to nurture young eaters
"We started lil'gourmets because, as moms, we saw firsthand the connection between our kids' first foods and their future eating habits," says founder and CEO Shibani Baluja. "With our fresh, organic, global veggie meals, our mission is to help lil'ones fall in love with vegetables, while cultivating their curiosity for flavors and cultures from around the world. Through food, we can pique our children's interest in and curiosity about a variety of cultures and help to make the world a smaller place!"
Responding to the demand from parents for a greater variety of vegetables and flavors, lil'gourmets now offers six delicious ways to cultivate a child's curiosity: Cinnamon Beets & Apples, Coconut Cauliflower Mash, Moroccan Butternut Squash, Pumpkin Navy Bean Shawarma, Spanish Corn & Bean Gazpacho and Sweet Potato Curry.
About lil'gourmets
lil'gourmets is the first and only fresh organic veggie meal for kids. Created with a unique veggie-first promise, 100% of the lil'gourmets global recipes feature veggies and beans as the first and primary ingredients. With only 2-5g of sugar and uniquely delicious chef-crafted spice blends, these fresh, ready-to eat veggie meals are a perfect meal for a baby, a side dish for a toddler, or a healthy snack or dip for kids and adults of any age.
Winner of the NEXTY award for Best New Natural Kids Product, lil'gourmets products are refrigerated, certified organic, non-GMO, vegan, gluten-free, and cold-pressure processed. All 6 varieties are now available online and in select grocery and retail locations. For more announcements and up-to-date information about lil'gourmets, visit lilgourmets.com or follow them on Instagram.
About Meijer
Meijer is a Grand Rapids, Mich.-based retailer that operates more than 248 supercenters and grocery stores throughout Michigan, Ohio, Indiana, Illinois, Kentucky and Wisconsin. A privately-owned and family-operated company since 1934, Meijer pioneered the "one-stop shopping" concept and has evolved through the years to include expanded fresh produce and meat departments, as well as pharmacies, comprehensive apparel departments, pet departments, garden centers, toys and electronics. For additional information on Meijer, please visit http://www.meijer.com. Follow Meijer on Twitter @twitter.com/Meijer and @twitter.com/MeijerPR or become a fan at http://www.facebook.com/meijer.