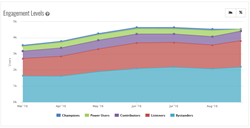 "Engagement Levels is a game-changer for member-based organizations. We talk to association executives and community managers every day of the week and tracking member engagement is one of the hardest parts of their job."
Mesa, Arizona (PRWEB) August 25, 2016
This week, Socious, a leading provider of membership management and online community software for associations, user groups, and companies, announced the release of Engagement Levels.
A major addition to their MemberCloud platform's new Engagement Dashboard, Engagement Levels allows Socious customers to easily track member engagement over time, as well as determine if their community management and member engagement strategies are working. A key process that used to take organizations hours now only takes a few minutes and doesn't require opening a single spreadsheet.
Engagement Levels, which are available in both Socious's MemberCloud AMS and online community products, provides organizations with a new interactive graph that makes measuring and tracking member engagement easier than ever. It combines membership, transactional, and activity data to make viewing and understanding member engagement a breeze.
Site administrators can incorporate these engagement levels into administrative reports to analyze participation, membership, and financial information within each level.
Watch a 2-Minute Overview Video of Engagement Levels: http://blog.socious.com/socious-blog/tracking-member-engagement
"Engagement Levels is a game-changer for member-based organizations. We talk to association executives and community managers every day of the week and tracking member engagement is one of the hardest parts of their job," said Socious Vice President of Marketing and Strategy, Joshua Paul. "They know that engagement is something that they need to track, but they just haven't had a way to do it consistently and efficiently. With MemberCloud's built-in Engagement Levels feature, they can not only measure member engagement in just a few minutes, it's also so easy for them to do."
Since member engagement is tied to mission-critical results like dues renewals, product purchases, event registrations, volunteerism, and advocacy, it is important that membership professionals and community managers be able to effectively measure and track member activity and participation.
Socious's Engagement Levels are designed to help organizations make actionable decisions from their member engagement data. The Engagement Levels graph, which is a departure from static pyramid-based engagement charts, gives organizations both a quick snapshot of their members' participation at a single point in time, as well as the ability to see how their members' participation changes over time. Past engagement levels are shown on the left side of the modified line graph, with more recent and current engagement levels on the right.
Association professionals and community managers can use the feature to quickly spot trends as the graph changes and align those trends with engagement strategies. Having that information at their fingertips will help membership and community managers steer their community and plan future member engagement tactics.
Member engagement looks different for every organization, so Socious makes it easy to add, subtract, rename, and modify engagement levels. Membership and community management professionals are able to set up engagement levels with just a few clicks by determining which member activities are most important to the health of their organization – from event registration and website activity to contributions in their organization's online community.
Once an organization defines their engagement levels, MemberCloud analyzes all members' activities and categorizes them by engagement levels. As members participate more, they accrue more points. Members can also shed points if they are less active in the organization. As each member's level of participation changes, so will their engagement level. It all happens automatically.
About Socious
Founded in 2002, Socious (socious.com) offers software and services to help associations and user communities take a members-first approach to growing and engaging their membership. Socious's MemberCloud platform manages over 1.5 million members for many of the world's top associations and companies.
Socious's cloud-based association management and community software includes membership management, private social networking, customer communication tools, discussion forums, and collaboration tools to help organizations increase sales, retention, and member engagement.
Socious provides a full range of professional services to help organizations manage their membership, grow their community, and plan events. Take a video tour of Socious's MemberCloud membership software.
###