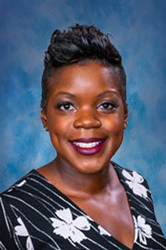 "The addition of Dr. Ogunsile and her disease-specific expertise elevates our program and the care it can provide to patients and families." - Melida Akiti, vice president of the Ambulatory Program and Community Services at Memorial Primary Care
HOLLYWOOD, Fla. (PRWEB) January 13, 2023
In its continuous commitment to meet the needs of patients battling the genetic blood disorder of Sickle Cell, Memorial Healthcare System recently relocated its Sickle Cell Day Center, providing patients the resources of a day hospital while also offering primary care, hematology, and social services – all in one convenient location.
The stand-alone facility, under the operations of Memorial Primary Care, is now located across the street from Memorial Regional Hospital's emergency department and serves as a 'medical home' for patients in need of this care.
Foluso "Joy" Ogunsile, MD, a physician specializing in hematology, has been named medical director and will lead the revamped sickle cell day center's clinical program. She received fellowship training at Johns Hopkins Hospital and was most recently an assistant professor and researcher at the University of Alabama at Birmingham.
"The addition of Dr. Ogunsile and her disease-specific expertise elevates our program and the care it can provide to patients and families," said Melida Akiti, vice president of the Ambulatory Program and Community Services at Memorial Primary Care. "Current and future sickle cell patients will benefit from the world-class education, medical care, lifestyle, and life care she and her team are now offering at the day center."
Dr. Ogunsile is a graduate of both Duke University and the University of North Carolina's medical school. Originally from Nigeria, she was a resident at Vanderbilt University Hospital before moving to Johns Hopkins to complete a fellowship.
The sickle cell day center (3700 Johnson Street, Hollywood) includes infusion suites,
equipment, and furniture that is being utilized by patients. A $300,000 contribution from the nonprofit Memorial Foundation made it possible to relocate, enhance, and expand services to the community.
Memorial Primary Care, part of Memorial Healthcare System, is dedicated to providing high-quality, compassionate, patient-centered care. With numerous locations in South Florida, its highly-skilled team of healthcare professionals works to meet each patient's needs in a friendly and culturally-sensitive environment.
To learn more about Memorial's approach to treating sickle cell patients, visit https://www.mhs.net/services/cancer/types/sickle-cell or call 954-265-1400.
# # #
Memorial Healthcare System is one of the largest public healthcare systems in the U.S. and a national leader in quality care and patient, physician, and employee satisfaction. It is highly regarded for a patient and family-centered approach that prioritizes multi-disciplinary collaboration, research, innovation, and transparency.
A South Florida-based academic medical center, Memorial is committed to healing the body, mind, and spirit of those it cares for at six hospitals (including Joe DiMaggio Children's Hospital), numerous primary, urgent, and 24/7 care facilities, a health specialty center, and nursing home.
For more information, visit mhs.net and connect on Facebook, Twitter, Instagram, YouTube, and LinkedIn.