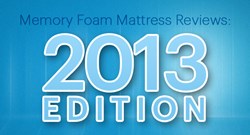 Scottsdale, AZ (PRWEB) September 04, 2013
The mattress industry frequently offers new products and consumer reviews are constantly adding to the online knowledge base, lending a certain fluidity to mattress ratings. Best Mattress Reviews, a blog about beds, takes a look at the latest in memory foam mattress reviews in their latest article, "Memory Foam Mattress Reviews: 2013 Edition".
The blog covers a range of different beds in the comparison, from premium national brands to online retailers and discount brands. The comparison draws one mid-range mattress with a profile between eleven and thirteen inches from each of eight brands. The specific models covered range in price from $359 to $3199 and include the Tempurpedic Rhapsody, Amerisleep Revere, Serta iComfort Savant, Sealy Optimum Inspiration, BedInABox Tranquility Gel, Comfort Dreams 11" Select-a-Firmness, Spa Sensations 12" Theratouch, and the Novaform Encore.
Leading the article is a detailed comparison chart that summarizes Best Mattress Reviews' findings in an easy-to-read format.The comparison includes specification information such as profile height, memory foam amount, memory foam density, and firmness, in addition to figures based on real owner reviews such as heat and odor complaints, durability, and overall owner satisfaction. The article also covers warranty, trial period, and pricing information.
Following the comparison overview, the article engages readers in a more specific analysis of each factor and each brand's performance relative to their peers. Best Mattress Reviews highlights that price and brand name does not appear to correlate directly with owner ratings, as the best-rated brands, Amerisleep and BedInABox, are online-only retailers with mid-priced offerings. In terms of heat and odor, the iComfort and Amerisleep models showed the lowest rates of complaint.
The brands showed significant variations in warranty, performance, and foam density which will likely prove of interest to people considering a memory foam mattress, and the article also includes informative tips and insight. Best Mattress Reviews hosts a variety of articles on different mattress types as well, from direct brand comparisons to general education articles.
BestMattress-Reviews.org is a bed blog dedicated to providing mattress and sleep product information. On the blog, independent industry professionals provide expert opinions and recommendations backed by research and customer reviews. The website aims to make the buying and research process a little simpler by collecting and analyzing information in a digestible, enjoyable format.